December 13, 2016
Christmas Maple Pudding With Maple Butterscotch Sauce from We Love Maple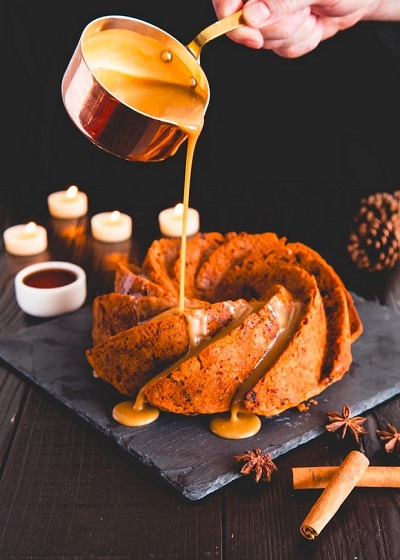 I'm Canadian and there's nothing more Canadian than maple syrup. Now as an Ontario girl I must reluctantly admit that most maple syrup comes from Quebec HOWEVER our wines are best so I guess I can let them be bigger producers 😉 I can be magnanimous and whatnot in that way because we also have the nation's capital and Toronto and Niagara and everything so I guess I can concede that Quebec makes most of the national production of maple syrup.
While this is a Christmas pudding I think you could use the butterscotch sauce any time of the year really and gosh don't save this pudding just for Christmas – have this pudding in February when the nights are still long and the days still cold. It's a delicious dense fruity pudding and where they have sultanas in here I often substitute raisins. Yes I know it's often California raisins but they are so darn delicious!
Serves 10
Ingredients
For the pudding:
250g dates
5 tbsp maple syrup
85g unsalted butter
85g maple sugar
3 eggs
200ml water
100ml Cointreau
150ml whole fat milk
250g self-raising flour
2 tsp. baking powder
1 tsp vanilla
1/2 tsp mixed spice
80g chopped dried apricots
1/2 tsp fresh nutmeg
80g sultanas
50g ginger
For the butterscotch sauce:
75g unsalted butter
125g maple sugar
1/2 tsp sea salt
135ml double cream
Method
Preheat oven to 180ºC / Gas mark 4.
Line a tray or Bundt mould with greaseproof paper.
Soak the dates in boiling water and liqueur for 30 mins and add vanilla.
Beat butter and maple sugar until white and creamy. Add eggs, a little at a time.
Sieve flour, baking powder, nutmeg, mixed spice and fold a third into mixture. Then add half of the milk. Repeat until all mixed in.
Add dates and rest of dried fruits to the mixture.
Place into tin or Bundt mould and cook in the centre of the oven for 20-25 mins.
For the sauce
Heat the butter and maple sugar on a medium heat with 50ml of cream.
When the maple sugar has dissolved and turns to toffee colour, take it off the heat and add the remaining cream.
Turn out the pudding onto a plate and pour the sauce over the top.
Serve with ice cream or crème fraiche.
Top Tips
The Christmas pudding mix can be made as early as three months in advance, so there's plenty of time for preparation during the hectic Christmas period.
Any dry fruits of your preference can be used in this recipe. These should be gently steamed.
Don't worry if you can't get your hands on a Bundt mould; any baking tray is suitable and should be lined with greaseproof paper.