December 12, 2016
Baked Mont D'Or Recipe by Paxton and Whitfield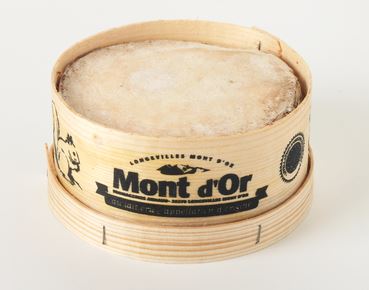 OK so I realise it seems intuitive to just bake a cheese but I've got to admit I've always been slightly intimidated by the idea of baking a cheese. How long is too long and how much at risk of totally burning your mouth are you? Is it only special cheeses? Will that wood burn? Does it really matter – I mean, can you ruin the cheese by baking it too long (answer is yes)? Is there anything special you are supposed to do to it (answer is yes)? Paxton & Whitfield have the answers.
Handmade for over two centuries in the Franche-Comté region of France, Mont D'Or is one of the world's most sought after cheeses.  This soft, creamy cheese is only made in the winter months when traditionally there is insufficient milk to make the region's larger famous cheeses, Gruyère and Comté. It is delicious simply spooned on to fresh bread, however, to bring some warmth on the colder winter days, follow the recipe for an alternative but equally stunning treat.
Method:
Preheat the oven to 180°C, 350°F or Gas Mark 4
Remove the plastic wrap from the cheese, take the wooden lid found at the bottom of the cheese and fit it on the top. Wrap the boxed Mont d'Or in foil and place on the middle shelf of the oven
Bake for 20 minutes and remove the foil
Carefully cut a large circle of rind from the top of the cheese and peel it off to reveal the soft inside
Pour in approximately 100ml of white wine and gently stir it in to the melted cheese
Place on a plate and serve with small pieces of bread or potato to dunk, in the style of a simple fondue
Of course, it is always an option to heat up the Mont D'Or and simply enjoy a glass of Paxton & Whitfield Côtes de Duras Blanc on the side 😉
Of course Paxton & Whitfield has other Christmas cheeses including stilton and some of the best crackers available over the holiday period and all through the year. Their range of cheeses seems greater at the holidays and they have a number of wine lover and cheese lover gift sets available.