November 12, 2010
Chocri Raspberry Chilli Dark Chocolate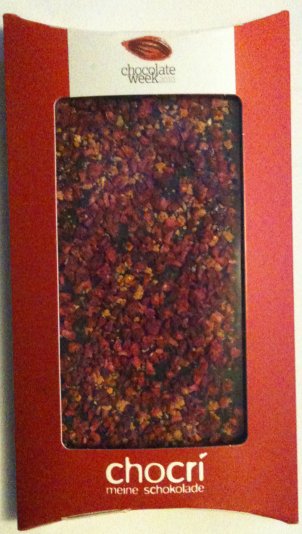 While at Chocolate Unwrapped, I was lucky enough to meet two of the lovely people behind Chocri.  Chocri is a chocolate company who create custom chocolate for you based on what you choose.
This dark chocolate bar was poured into what we would recognise as a typical chocolate bar mould.  It has little squares but in the window of the chocolate box that part of the chocolate bar isn't what you see – what you see is the topping put on what most of us consider the bottom of the bar.
This particular bar was created for me.  I had made three bars myself but this one was made by the Chocri people based on popularity and I have to admit it was slightly worrying.  It has chilli *and* raspberries in dark chocolate.  It was a brave combination and one I was happy to try.
The bar was slightly strange.  I think chilli should be put in the milk chocolate bar as it would have been sweeter but the raspberry then wouldn't have worked as well as it did.  The dark chocolate isn't bitter and it is slightly sweet and with the tart raspberry and the hot chilli it made an interesting bar.  It's not artisan chocolate but it is delicious and quite frankly making the effort to try and make a bar I think shows love.  Perfect as a gift!  Why not buy a gift certificate and someone can make their own and experiment!
Freebie Friday!  I've got a bar of this chocolate to give away to one lucky person who comments on this post, likes it on Facebook or tweets "I'd like to win a @mostlyaboutchoc freebie Friday @Chocri_UK bar http://bit.ly/91BRsg"  I'll draw the winner on Sunday!