March 26, 2013
Chocolate Society Easter Eggs Reviewed – Dark, Hokey Pokey and Dulcey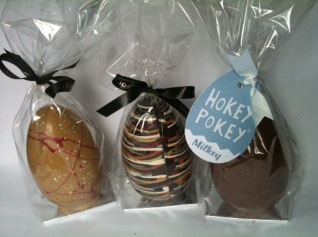 I enjoyed the Chocolate Society's previous incarnation and so when it was taken over by the current owner I was keen to see how it would change and evolve and grow. So far I haven't had the opportunity to try as much of their wares as I would have liked because of time but this Easter I had to make time.
I was sent a trip of eggs to review by the lovely folk at the Chocolate Society and while they didn't make it in time to be judged for the top 12 eggs, they are some mighty strong contenders here. These eggs are made with Valrhona chocolate, immediately demonstrating quality whether in the dark, milk or new Dulcey. There is an expectation of quality with Valrhona and to receive an egg made with this chocolate you know you'll be giving or getting something of quality.
There was one egg that I ate the most of and I suppose you might say that was my favourite… or that I was greedy but I didn't eat the *whole* egg… in one sitting so I don't think that I'm greedy… much…
So – on to the eggs!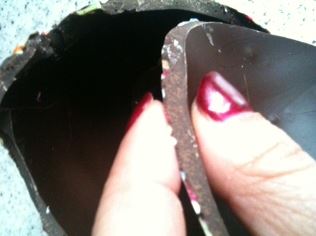 Valrhona Dark Chocolate Easter Egg – A very thick egg – hopefully you can see from the image how thick. I had trouble breaking this egg open. I can imagine that is part of the fun on Easter morning is trying to take that first piece of egg.  I'm a fan of a knife and a hammer for those thick eggs… 😉 With this one once I broke my way in you can see how lovely and dark this egg is. The Valrhona chocolate is tasty as you would expect, and not too sweet making it an egg to savour. I love the drizzled pattern on this egg and think that for a serious chocolate lover, this is the right choice.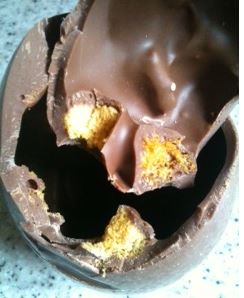 Hokey Pokey Milk Chocolate Easter Egg – this is a lot of fun (but not to get in to). After taking my frustrations out on this egg trying to get in to it, I was rewarded with chunks of honeycomb slathered in enough milk chocolate to make any kid (young or old) sign in wistful bliss. There is always more chocolate and there is always yet another chunk of honeycomb. It felt like the egg of neverending sweet joy and happiness. I was certainly in the mood for something sweet when I tried this one as I started eating it before I photographed it!  There is a subtle decoration of some speckling and silver shimmer which is understated and delightful.  Definitely for the milk chocolate lover in the family, this isn't too sweet and makes a nice contract against the dark.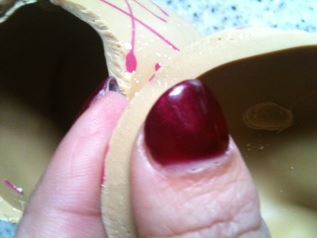 Dulcey Chocolate Easter Egg – Dulcey chocolate from Valrhona is a unique creation with white chocolate and butter prepared a certain way, combined together is a particular balance to create this blonde chocolate. Not quite white chocolate, having a bit more depth of character, I also don't find it as sweet as other white chocolates can sometimes be. This blonde chocolate is also not dominated by that synthetic vanilla flavour that can often dominate cheap white chocolate (the good stuff is quite different). This egg is also extremely thick as you can hopefully see and quite substantial. I was worried I'd have to break out the knife and hammer at one point! The thick blonde chocolate is perfect for anyone who prefers sweetness and no cocoa solids (perhaps because of migraines).
Overall, these were wonderful, thick, delicious eggs. They are all available from the Chocolate Society website and given how thick they are, they should be perfectly fine in transit pretty much anywhere in the world! BUY THESE EASTER EGGS HERE