March 25, 2013
William Curley Small Filled Easter Eggs Reviewed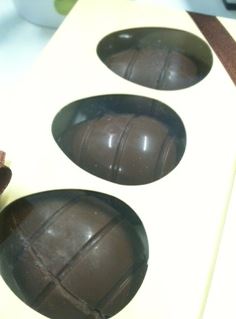 One of the things I love about Easter is that it is all about chocolate. As people's tastes evolve and change, Easter is becoming more about quality chocolate. People are eschewing the palm oil-filled chocolate if the mass-market and embracing the higher quality, healthier (because it doesn't have palm oil) dark chocolate Easter eggs. Companies large and small seem to be increasing the number of dark chocolate eggs made with high quality chocolate.
I purchased these eggs at the William Curley shop after one dessert bar visit (because I swear I can't go unless I'm scoffing those delectable desirable desserts!) and I wasn't careful so I ended up with the wrong ones (whoops) which were still awesome and which I generously shared with the office.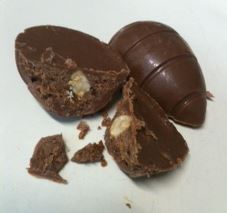 The praline was made so that is was just so smooth and not too creamy. This was beautifully counter-balanced by the crunchy feuillitine. I do enjoy this flavour combination so (don't tell) I may have eaten one of the eggs before sharing. I mean, there were 3 eggs that cut neatly in half… 😉
William Curley has other ones. They have sea saly caramel (the ones I was after), and other flavours I remember less well as I kind of zoned a bit after the amazing dessert bar. I was still in a kind of euphoric stupor after the dessert bar and wandered a bit…
But epic awesomeness of the dessert bar aside, this is some epically awesome feuillitine and praline. Smooth and crunchy, well-balanced flavours so nothing is too strong, it is a brilliant middle-of-the-road egg that will have wide appeal. With the egg being made with quality chocolate, you know this is going to be healthier to give to your kids (or yourself) rather than the palm oil-added eggs on the market.
Choose quality this Easter – choose something made in Britain – choose William Curley