January 9, 2010
ChocoHolly Organic Rich Milk Chocolate Bar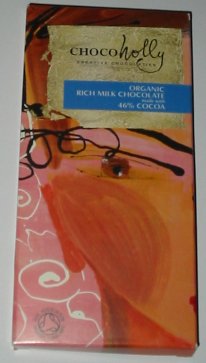 At 46% cocoa, I would expect Chocoholly's chocolate bar to have a strong chocolate flavour. Worryingly, however, the first listed ingredient is cane sugar.  So instead of putting the possibly sugary chocolate into my mouth, I did a bit of research on Holly whose beautiful artwork decorates the boxes within which the chocolate bar is hidden.
Holly is a contemporary artist who has a passion for chocolate and was so inspired by the film Chocolat that she went on a quest.  The end of her quest is some of the most interesting sounding chocolates I have come across.  The passion for organic is strong too and so I was hoping for something good.
And so I braved it.  The immediate sweetness coated my mouth and then and chocolate started to fight its way through. 
 Smooth and slightly fatty, there is a hint of graininess which is not unpleasant.  The chocolate comes through as a smooth, gentle flavour, typical of milk chocolates.  A stronger hint of earthiness than I'm used to comes through in the chocolate but it is hidden by the creaminess and sugary flavour.
It's a good milk chocolate and a good change from Cadbury's.  I especially like the resealable plastic sleeve the chocolate is in which means you can enjoy a little and seal the rest for later.  The stronger chocolate flavour means you feel satisfied for longer.
A good way to support a small chocolate maker who is making a difference in the chocolate world with organic offerings.