January 10, 2010
Super Novanta Amazzonia 90% Chocolate Bar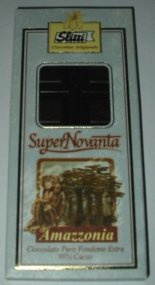 A friend brought this bar back from Italy for me.  She knows I love high quality chocolate and as a gift, she brought back a recommended bar.
According to the packaging Super Novanta Amazzonia 90% cocoa minimum is a gourmet chocolate, with a noble character.  It has been developed through a careful selection of valuable cacaos wisely blended to enhance the notable fruity flavour and the aromas of the best cacaos from Venezuela.
The chocolate isn't as earthy as you'd expect.  It is very strong and the large pieces mean you get a lot in each piece. 
This chocolate is strong but not overpowering.  It has a smooth flavour which lacks the fattiness of other chocolates.  The strong flavour has a hint of the bean and the fruitiness.  The taste of the individual beans is hard to detect but you do get a distinct taste within which is a hint of the fruitiness mentioned on the back of the bar.
Despite the high cocoa content of this bar, it is easily edible.  It is a robust flavoured bar which will be enjoyed by people who enjoy good quality chocolate.  As I pop the second large piece of this chocolate into my mouth, I can't help but think how lovely this high cocoa content bar is.
Too many people are afraid of high cocoa content bars, having only tried the burnt flavoured bars from the likes of Lindt.  This lovely bar proves that a high cocoa content bar can be delicious and have a personality all their own, from the first bite to the lingering distinctiveness after the piece is finished.