December 22, 2011
Chococo Christmas Tree & Chocolate-Covered Apricots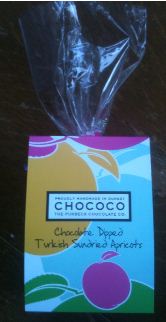 When you are out shopping and going through hell, just retire to a Starbucks or somewhere with Wi-Fi and shop online at Chococo. You'll thank me later.  Well, that is if you haven't already ordered everything with your chocolate advent calendar…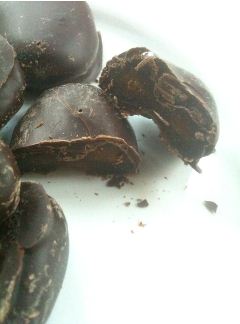 Firstly, order some Chocolate Dipped Turkish Sundried Apricots. Why? Well, every holiday has nuts and dried fruit but rarely, if ever, do these bowls of fun come with chocolate. Yes there may be chocolate dipping but having a whole dried apricot already smothered in chocolate is always a good thing. I think I might have chosen a slightly different couverture with a sharply acidic edge and a fruity flavour profile to help enhance the apricot flavour which I think might have been shadowed by the chocolate but that doesn't detract from these. They will be the ultimate party food for your guests this holiday and if we're lucky they will continue making them into the New Year.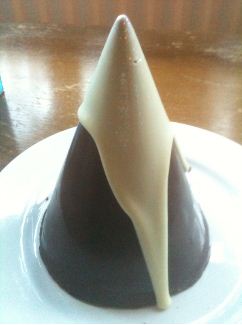 Next, get three of these Chocolate Christmas trees. They are absolutely beautiful and each one is unique. They have popping candy and beans on the inside which will delight kids but if you'd like to hint at what is underneath I recommend a small mirror or mirrored place and use small square ganache chocolates to support the tree slightly above the level of the plate/mirror and your guests will have a hint of what is inside.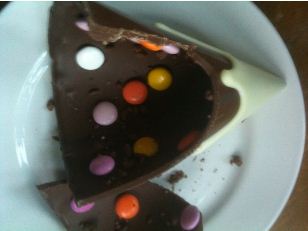 The chocolate beans are a colourful addition and the popping candy is fun though it didn't pop too much for me so don't worry about it exploding in your mouth like some eggs 😉 The fun will come when either the kids or adults get to attack the trees at the end of the meal and eat chunks of it. They are just so wonderful and colourful and fun they'll be a hit at any holiday party.
Celebrate the holidays with some fun, quality chocolate this season. Get the kind of fun chocolate everyone will love get yourself some Chococo. As this somehow ended up in drafts with no images you might have to pop to the shop to get some of this lovely stuff before the holidays but the trees are absolutely worth the effort!