May 23, 2013
Chene Bleu Abelard 2007 Red Wine Review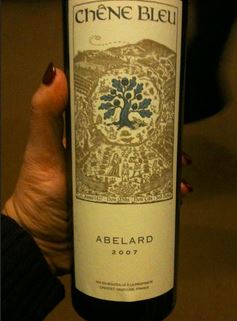 I'm not a chocolate snob (says the woman addicted to dipping Dairy Milk in her tea so it melts) and I'm also not a wine snob. I do prefer and do deliberately choose to consume high quality chocolate most of the time and I do choose to drink quality wine. Once you realise red is not supposed to burn on the way down and that white doesn't always smell like cat pee, it opens a whole new world of delicious, if more pricy wine.
I suppose my tastes make me an expensive date – or in the case of my current situation, an expensive wife. Both my husband and myself prefer quality wine, whisky and chocolate and as a result we choose what we consume accordingly. Tasting chocolate does help when tasting wine and vice versa (only you don't slurp a ganache 😉 )so I was thrilled to be able to pilfer this bottle of Abelard 2007 from the lovely folk at Chene Bleu (Blue Oak in English – I learned a new French word!) when I saw them at a press event.
The wines from Chene Bleu were bold and robust reds. They are created by a small estate in France in the Rhone Valley and while I usually dismiss wines from this region as being overpriced in the UK, this "biodynamic" blend is amazing.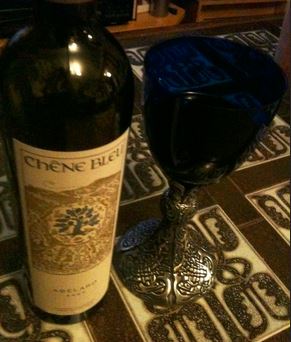 This wine is a bit heavy. While you can drink it on its own, I think it would balance really well against red meat and possibly even game. It has some deep dried fruit notes like raisins and prunes. There is a lovely nose full of red fruits dries in the sun so they give off that distinct smell and the taste carries that through – something that doesn't always happen in chocolate. The wine is complex without being challenging so you won't be sitting there trying to figure out what the heck is going on in your mouth 🙂
While wine may seem more challenging than chocolate, it isn't. You do the same things with a nice wine that you do with a nice chocolate – slow down, look at it, smell it a few times, take a sip/bite, roll it around your palate, take the time to experience it, add air to expand the experience, swallow and savour for awhile. Good wine, like good chocolate, should never be rushed.