May 7, 2013
Ben & Jerry's Turns 35, Have a Party with Ice Cream
One of the really fun things about being a blogger and having been around for a few years is that I get invited to a few events every once in a while. Usually it means I get the heads up about some new flavour or type of chocolate or dessert or wine coming to market but sometimes it is just to celebrate a particular milestone.
Ben & Jerry's is one of those companies that seems to be too good to be true and yet they are exactly as they seem. Yes, they have been controversial and yes they have made mistakes along the way but their central tenant of being fair has always been the foundation upon which they have built great flavours (husband still misses "From Russia with Buzz") and a great company (they do a ton of social good).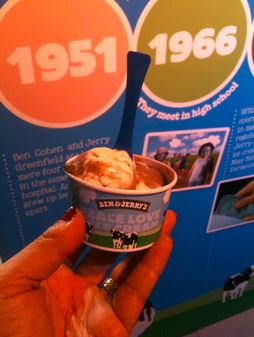 Ben & Jerry's turned 35 this year. After having to abandon their dreams of making it big in the bagel world, they took a $5 course in ice cream making and embarked on the adventure of two lifetimes. They started small, soon growing enough to rent a facility and they had a beat up old VW van that they took around, giving away free ice cream from (and making deliveries in). Apparently that original van burned down after a multi-state journey of ice cream awesomeness but for a good cause – introducing as many people as possible to Ben & Jerry's.
At the VIP event, in the holding room before the show (we were treated to free ice cream *and* a show) there were informational boards covering the various good deeds Ben & Jerry's have been involved in such as extending their employee and health benefits to unmarried cohabiting partners in 1993, renaming their ice cream "Hubby Hubby" in support of gay marriage (it's Apple-y Ever After here with the couple on the cake topper a gay couple – both more and less subtle) and ensuring all their ingredients are fair trade.
One of their more recent efforts is around the welfare of their cows. In the US where they control the dairy herd, their cows have massages, an automatic milking machine and more. Their EU counterparts are not as pampered and in fact in some places they are quite poorly treated so they have launched an appeal to create happy cows through minimum welfare standards. It might not be massages but it is a start.
With every ingredient that can be now fair trade, and with the welfare of animals firmly in their sights, Ben & Jerry's is reaching out into the community to find and recognise those who do social good. An absolutely fantastic endeavour and something for us all to ponder as Irish hip hop group Abandoman performed total freestyle hip hop and amazing comedy for us before we finished off with more ice cream. A lovely and inspirational evening.