May 4, 2011
Cheesecake Lollipops and Shortbread from Chef Patrice at One Pop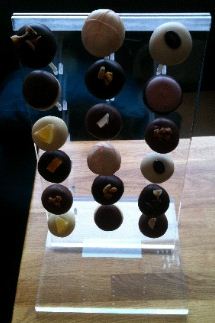 For over a year in financial district the Saisons restaurant in Toronto has been hiding a secret – the best shortbread in the world and the most wonderful treat ever – cheesecake lollipops. You read that correctly – cheesecake lollipops which are extremely complex to make and extremely delicious to eat.
When I met the lovely man from One Pop who is both marketing expert and son of chef Partice it was a chilly day so we retired to a coffee shop. He brought both cheesecake lollipops for me to try and shortbread which I am always skeptical about. We chatted about how difficult the whole process is and how Chef Partice works from early in the morning through the day at the restaurant then in the evening and I was amazed at the effort that he was putting in. He was training up his son but the process takes weeks to learn, months to perfect and he was only in progress on his journey to learning to make the cheesecake lollipops, let alone the shortbread. It is an intensive 3 weeks of learning how to make these cheesecake lollipops to be delicious, round and perfectly dipped without freezing, without crumbling, and resulting in the most perfect item. These took 4 years to perfect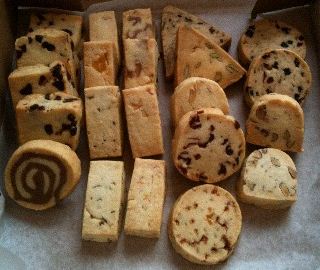 I want to focus for a moment on Chef Patrice's shortbread though. The shortbread is from a traditional recipe from France with unique additions. People hunt him down from all over the world in order to buy some shortbread and in fact I will be becoming one of them because of what I tasted. The shortbread is just like my mom's shortbread. It is absolutely lovely and I cannot express in words how lovely this shortbread was. It was buttery and soft yet firm and so delicious with a balanced flavour and just sweet enough. There are 16 different flavours including anise, toasted coconut, Ginger, cranberry and chocolate marble. I have in my notes that you can may be able to get them at the Bay downtown but I haven't checked yet. These shortbread are well worth hunting down and buying! I think I tried almost every one – marbled, espresso, anise, pumpkin seed, butterscotch, cranberry and more and all were excellent (and I don't like anise)! I am, in a sense, glad we don't have this in the UK. I'm gaining enough weight as it is without having these tempting me every day!!!
Oh and the cheesecake lollipops. My goodness!! I tried so many of them – I think I tried them all! The lollipops are the most amazing, gluten-free snack ever and they come in these flavours:
Vanilla dark chocolate – like eating chocolate coated vanilla ice cream. Delicious!
Raspberry – just wonderful and not too tart with a lovely flavour. Raspberry cheesecake at its best!
Mocca – more of a subtle but sweet flavour and of course the chocolate coffee bean on the top
Banana white & milk chocolate – a lovely banana cheesecake with a varied chocolate coating. Excellent skill.
Cherry – white chocolate tinged pink on dark chocolate with cherry cheesecake just delightful
Lemon & White choc – perfectly well balanced & combined to be a tart but sweet cheesecake lollipop with chocolate coating the delicious cheesecake inside
Almond & milk chocolate– nougat – balanced through – no single distinct overpowering flavour which means everything combines perfectly
Caramel & milk chocolate – sweet but not overpowering with ribbon of caramel inside. Tart but delicious and possibly slightly addictive
They also have: maple, pistachio, eggnog, orange & dark chocolate
Everything is made by hand – they use no preservatives and the ingredients are local. You can buy a few for yourself, you can order 18 as a party treat or for big corporate orders like staff parties, weddings, bridal showers, birthday parties, etc. you can order 48 on a special tree.
There is nothing like these cheesecake lollipops. I've seen people in the UK and elsewhere try and copy them but either they get the cheesecake wrong or the chocolate or both. The shortbread is worth crossing the border for that's for sure! Awesome stuff from a chef who is sure to continue creating new and different food trends in Toronto.