September 27, 2010
Charles Chocolates Tea Selection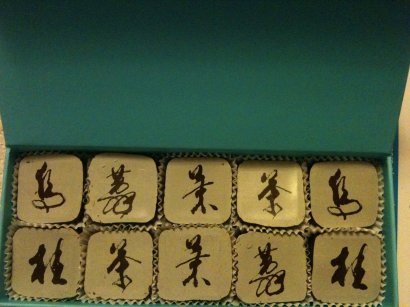 This tea chocolate collection was quite unique when I saw it.  To dedicate five chocolates in a specially boxed collection of tea chocolates was new to me and to add the calligraphy made specially for the chocolate manufacturer was especially special.
I had a lovely chat with one of the staff in the shop about the chocolates.  It was a brand new shop and they were just waiting for the chiller cabinet to come in for them to sell individual chocolates.  I knew I was off to Texas where it was 100F outside so I didn't want too many chocolates as I knew they would melt (SF was only 69F).  I ended up grabbing this box and a ton of other chocolates anyway 😀
Baochong Tea chocolate – This strong Taiwanese tea is infused in a dark chocolate ganache. It was rather overwhelming and quite different. I'm not sure if I like it but this is absolutely unique.  The quality of the underlying chocolate is not top but it isn't bad and so is a good vehicle for taste.
Lichee Tea chocolate – a slight fruitiness to this chocolate comes through to identify them as lychee.  I'm not a fan of the flavour but not because the chocolate isn't lovely with a melting ganache but just because I'm not a fan of lychee 🙂
Jasmine Tea chocolate – The jasmine comes through in a hint of floral perfume of does not linger as with other jasmine chocolates and the tea does not quite struggle through the dark chocolate. Not a bad chocolate but not the best I've tried.
Charcoal Roasted Oolong Tea chocolate – I can't taste anything but the chocolate here.  I was expecting to get a smokiness to the chocolate and perhaps a strong dark tea flavour but so far the Baochong was the most distinctively flavoured.
Osmanthus Tea chocolate – Woah! OK, that is about as subtle as a wet fish round the side of the head. An explosion of apricot-y fruit flavour with a slightly artificial aftertaste.  This was not a great chocolate but it certainly had a distinctive flavour.
This is an original and certainly unique chocolate selection available in SF only as far as I know but the slim, sturdy box will ship easily around the world provided the weather cooperates.