April 1, 2014
Charbonnel et Walker Chocolate Easter Fish Reviewed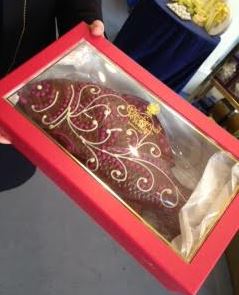 I have to admit, when I was offered a chocolate fish, I didn't really know what to expect. I'd had a chocolate fish before from Carluccio's but what I was presented with was about as far removed from that as you could get and still call it the same thing.
The Charbonnel et Walker chocolate fish is beautiful and a heavy 650g of chocolate. In my excitement I forgot to measure it but I would have given it 11 – 12 inches in length. You can imagine how thick the chocolate must have been.
Actually, you don't have to imagine you can see how thick the chocolate was.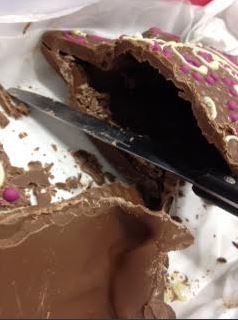 On top of this being a huge amount of chocolate, this was a thing of beauty. From the perfect moulding without any air bobbles through to the hand-piping of the decoration on the fish after it was created, this chocolate fish is going to be the hottest ticket on this year's Easter wish list.
In fact, last year they all sold out and they will *not* be offered online either. This is an in-store only thing though I'm sure if you're willing to accept pot luck in decoration they will mail order one to you.
That's the thing though – each fish is absolutely unique. No two fish are going to be the same so the colours and design are going to vary from fish to fish. That's one of the reasons they aren't online – they are all unique and so you never know which design you'll get.
These are a limited run and so if you want one, you're going to have to be fast. Call Charbonnel's closest location to you or visit one of their stores. I know that the Bond St location has them for sure but I don't know which of the other shops will get them.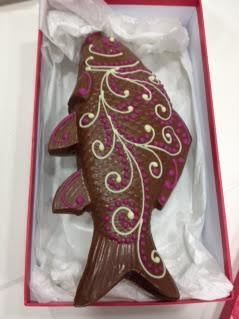 As you can see, this is a thick, luscious, gorgeously beautiful chocolate fish. Mine was in milk but they also are in dark and in dark the colours absolutely pop out. It makes the perfect hostess gift, Easter gift with a difference, crazy gift or just something for that chocolate lover in your life.
I was absolutely blown away by this chocolate fish, from the size, through the weight to the decoration. Plus – Charbonnel et Walker milk chocolate isn't too sweet so just perfectly moreishly yummy 🙂