March 31, 2014
Filled Quail Easter Eggs from Demarquette Reviewed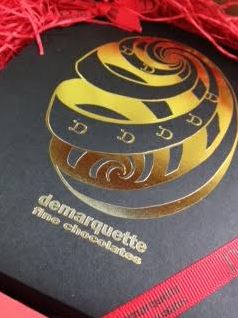 There are few things I love more in this world than a good salted caramel (I mean, outside chocolate) and though my addiction to Paul A Young's version is well documented, I have to ensure I have some Pierre Marcolini salted caramel spread in my life and some Marc Demarquette salted caramel eggs.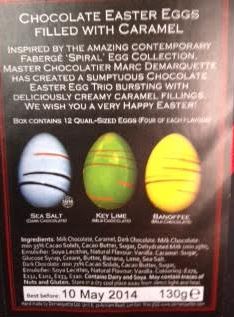 Demarquette released 2 boxes of filled eggs and I have to say that I am in love with them. YUMMY! I was sent the Quails Eggs but if I could just order a box of the salted caramels and a box of the key lime I would be a happy bunny (see what I did there? Did ya laugh? Smile? Did even a corner of your mouth rise? Clearly I am not a comedian…)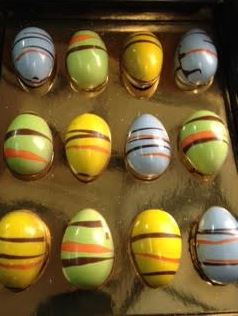 So to the eggs. The chocolate is a pleasant, slightly nutty chocolate, typical of many areas of Venezuela and certain other regions of the world (including some areas of Vietnam). The shells are sometimes thicker than others but this is probably something some people will enjoy and makes them more secure for shipping. They are placed within a lovely black box decorated with a foil stampes image of a ribbon egg and the Demarquette logo, along with being tied up with the Demarquette red ribbon. There is a sticker on the back illustrating the flavours. As I am allergic to banana, I only reviewed the salted caramel and key lime pie.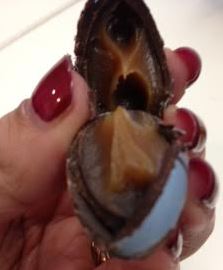 Salted Caramel – this is a favourite of mine. When I got a thin-shelled egg with the salted caramel, it created the perfect mouth experience. The salted caramel combined with the chocolate to be absolutely perfect. Thick shells made me want more caramel 😉 Overall a delicious egg and one that made me ant a whole box!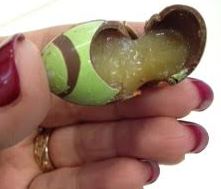 Key Lime – zingy, zesty and different, this fruit compote was a delightfully citrusy counterpoinbt to thesalted caramel. Absolutely a palate cleanser, this started with a zingy ctrussy bang and continued in that vein. Absolutely delicious and very moreish, you'll be satisfied after one but you'll always want more
Banoffee – I left the 4 banoffee eggs in a little dish next to my desk. I went to make a cup of tea, came back and they were gone. I have no idea who ate them or what they thought about them.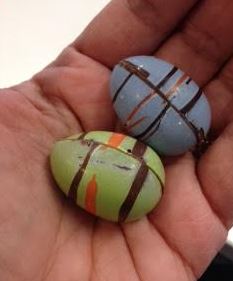 Overall a delightful box og the perfect sized eggs with the perfect combination of flavours (if the decimation of the banoffee was anything to go by!) There is a "chicken egg" sized version of these but I think that might be a bit too much. Kind of like the crème eggs but extremely high quality. Delicious but far too much for ne sitting. Any small child is likely to prove me wrong on that point though!
These are available online only from DEMARQUETTE CHOCOLATE ONLINE.