Category:
Great Meals Out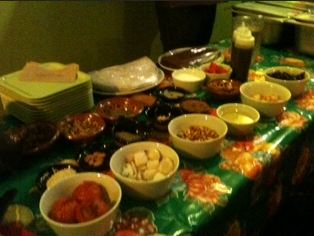 Benito's Hat has four locations around London and for the week of Chocolate Week they will be adding to their menu one of the most quintessentially Mexican of Mexican foods – mole! But this is not just any mole – ...
Comments Off

on Chocolate Week Menu at Benito's Hat
It was an amazing sight - tucked up a stairway at the corner around from Victoria mainline station was a gem. This glorious find is passed by by everyone except those initiated into it's secret & I'm here now to ...
Few things in life are as wonderful as taking tea with a friend and so it was I found myself once again waiting outside the wrong tube exit for Dom from Chocablog to go this time to a Chocolate Christmas ...
Comments Off

on A Review of Chocolate Christmas Tea at the Hilton