February 1, 2012
Carlucicos Bocconcini al liquore Cake & Chocolate Bites Reviewed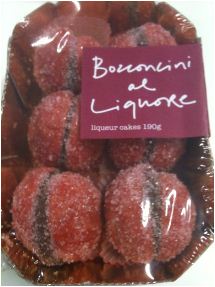 It is now only two short weeks until Valentine's Day and I know husband will buy me some supermarket roses if I'm lucky. I, on the other hand, will agonise from now until the day itself to find the perfect way to tell my husband of 15 years in a new way that I love him more than life itself.
Of the many things on offer this Valentines, some of you may be lucky enough to get a packet of these beautiful bites of alcoholic loveliness. While they may just be sponge cakes soaked in liqueur with a chocolate filling, they are still delicious and perfect for one or to share.  The smell through the packet of alcohol tells you that these are going to be strong but that strong scent is not actually offensive – just strong.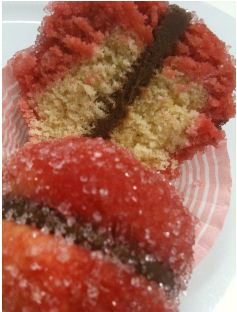 Coated in quite coarse sugar, they have a crunchy outer shell from that sugar and the pink colour is from the liquor which is soaked half way through the cake. The chocolate filling is quite solid without being hard so it is easy to cut but also easy to eat. The cake does not particularly stand out as something extreme but that makes it even more appealing. It means that these will be easier for more people to love (except those who don't like liquor as I found out at the office – who doesn't like liquor-soaked cake? Weird!) and hopefully make it a tipsy affair.
These are delicious and quite addictive and at less tha a fiver a really good deal. Anyone who gets a packet will be loathe to share!