September 2, 2013
Cadbury Pebbles Rockin Drop Cookies
These cookies are lower in sugar than some I have made in the past like my fav chocolate chip ones, but they are delicious and with the chopped up Cadbury Pebbles they ass a bit of sweetness. Just a word of warning – the dyes on the shells will melt a bit so be ready for some odd colours happening in your cookies!
Makes 24 cookies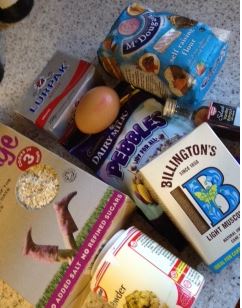 For these drop cookies you'll need:
115g unsalted butter at room temperature (trust me)
85g light brown muscovado sugar
1 large egg at room temperature
60g self-raising flour
1/2  teaspoon baking powder
Pinch of salt
1/2  teaspoon vanilla extract
115g porridge oats (I used Rude Health)
1 bag Pebbles, chopped roughly
2 baking trays lined with parchment paper (or greased – your choice)
First prepare the two baking sheets by covering them with baking parchment. This will stop the cookies melding to the baking sheets – especially where the Pebbles are exposed.
Set the oven to 180C (170C for my fan oven)
Take the room temperature bitter and combine the light brown sugar with it. The molasses in the sugar adds a depth to the flavour of the cookies. Use a hand mixer to really blend the sugar into the butter until light and fluffy.
Make a space in the bowl and lightly beat the egg before blending it in to the sugary butter. If you aren't using a hand mixer as I was, beat the egg then add it to the mix. Beat well and add the vanilla extract while beating.
Sift the flour, baking powder and salt together and into this mix, folding it in to avoid the shower of flour I got. I looked like I had aged 20 years!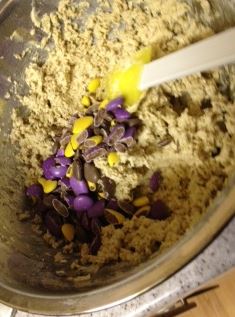 Once combined, add the oats. At this point I was using a spoon simply because it got very sticky as a mixture and tough to work with. Now the last thing you do is add the chopped Pebbles.
Put heaped teaspoons of mix on the baking trays, spaced apart because they will spread and place the 2 trays into the pre-heated oven. Makes about 24 cookies but really – it depends how big you make them 😉
Bake for 12 – 15 minutes. Once baked, alow to cool before eating. On mine the colour of the pebbles did melt a bit so be aware that this might happen. It may look slightly weird but the cookies still taste yummy!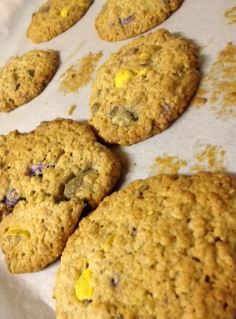 I took these to the office, who are already addicted to Pebbles, and they loved them. They didn't mind the melted colours and thought the Pebbles made these delicious. Your kids will love them and these cookies are lower in sugar than other cookies I've made. You can store them up to a month but I doubt they'll last that long!