September 4, 2013
Cadbury Pebbles Crushed Boulder Cupcakes
These cupcakes are a modification of a recipe I use for other cupcakes. I added 6 Pebbles for the top of the cupcakes but the colour did melt so just be aware of that. They still tasted delicious!
Makes 6 cupcakes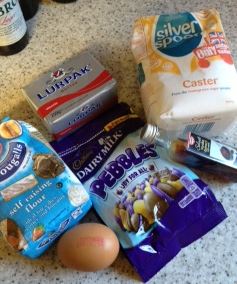 What you'll need to make these cupcakes:
70g Self raising flour
70g salted butter at room temperature
70g caster sugar
1 large egg at room temperature
55g roughly chopped Cadbury Pebbles
Preheat oven to 190C (170C if you have a fan oven like mine). I have a 6-space silicone cupcake tray and this recipe makes 6 cupcakes. I bought some pretty cupcake cases – Tula have some awesome ones with little cupcakes on the side. They have other brilliant baking equipment too!
Beat the butter until fluffy. It'll be lighter in colour so you'll know its fluffy but really you're trying to make sure there are no lumps and it has been whipped up a bit.
Whip the sugar into the butter until you can't see sugar. It's easy if the butter is at room temperature. I have scales that zero out so if you have those you can do everything in one bowl.
Beat the egg into the mixture. I usually beat the egg slightly first, then incorporate it into the mix. This is a small amount of batter so you should be able to do it with a hand blender.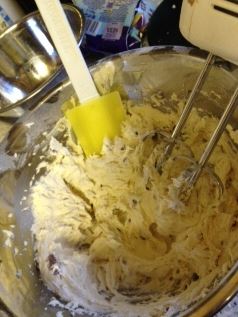 Carefully incorporate the flour. I usually sift it into the bowl and then fold with the spatula and then use the hand blender.
Fold chopped Pebbles into the mix using a spoon (or spatula).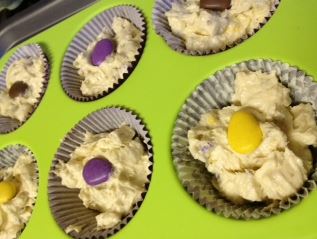 Spoon 42 – 45g of mixture into each cupcake case. Top each cupcake with a Cadbury Pebble.
Bake for 15 – 20 minutes then leave to cool before removing from tray. Allow to cool completely before eating or mouths may get burned on the hot melted chocolate!