September 3, 2014
Barros Colheita 40 Year Old Tawny Port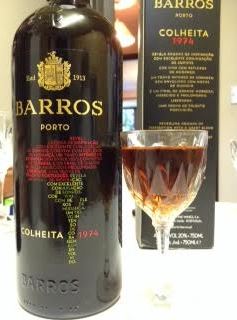 It has been 40 years now since the revolution in Portugal. No one really thinks about it outside Portugal unless you like your port. If you are in to port like I am, then you know not only was this a year of pride for the people of Portugal but it is also a year of some of the most important port making – because this is the first year of their freedom.
Barros prepared this special edition to mark the four decades of the Carnation Revolution. This whole bottle and box are a tribute to the 40th anniversary of the Revolution of April 25. Barros chose poetry as the art of expression, displayed on the label, with the words, lined and colored, forming a carnation.
I have to admit, and I hope I am not lynched over this assertion, that this specific year is perhaps not the absolutely best example of port wines that Portugal, and specifically Porto has ever produced. There is one from Kopke from 1978 that is like every warm and lovely Christmas memory all soaked in alcohol and served up as a warm cuddle. The 1974 from Kopke just isn't the same and pales in comparison.
This tawny port, however, breaks the mold and may convince me of the potential of the 1974 grape harvest.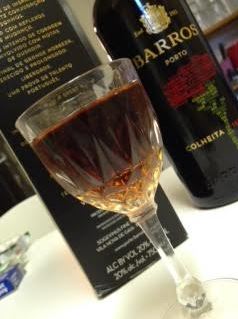 This bottle of 40 year old port is an absolute delight. It has a flavour of raisins, prunes, cherries and other fruits which have been soaked in a fine alcohol for years  until their flavours have been eked out and thoroughly infused the port. It is, however, surprisingly light considering its age.  While it lasted like liquefied alcoholic fruit, it doesn't have a heaviness to it. The mouth feel is quite light, approachable and drinkable.
There is a slightly different edge to it for me though. There is a layer on my palate of something which doesn't quite match the liquefied fruits coming through. Something utterly neutral but which doesn't match my previous experience with any port, officially tasted or casually consumed. I cannot describe it but if pressed, I'd say it is almost like vodka or water but without the negative connotations that had. It's as though I was eating a port sandwich and that was the pita bread – it is barely there and takes nothing away from it but I'm aware of it.
Who cares though, right? We aren't wine snobs here – we're chocolate snobs! This is a glass of liquid heaven and you cannot deny yourself a glass of it. If you are in the market for an approachable, drinkable absolutely sexy gorgeous port and love that flavour of dried macerated fruits washing around in your nose and mouth, buy this celebration of 40 years of freedom and port making NOW HERE or ask your local specialist wine shop!
I'd match this is a fruity chocolate like a Chuao from Venezuela like Soma has or a Madagascan like Pump St Bakery has.