October 15, 2012
An Evening of Chocolate and Cheese with Chococo and Paxton & Whitfield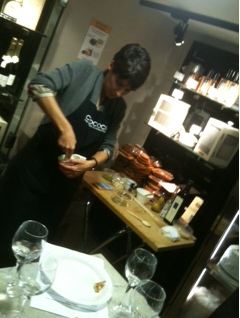 I'm not a huge fan of chocolate and cheese so when Chococo offered me the chance to go to an evening of nothing but chocolate and cheese, I hesitated. I hesitated for a long time, I hummed, I hawed, I prevaricated and I finally placed my trust in Chococo and said yes.
Chococo had teamed up with ancient (in Canadian terms) cheesemongers Paxton & Whitfield who have been around since 1797 to bring a small number of people together to experience the delights of chocolate and cheese, married together in perfect harmony. Or at least that is what I thought. Turned out we had to make the pairings ourselves and boy did I create some howlers!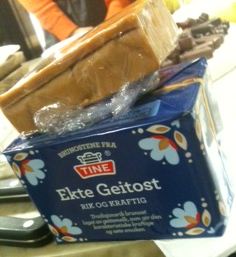 Apparently around the holidays 20% of all sales of everything (including cheeseboards, etc) is stilton. They measure the sales of it in tonnes! I am no stilton fan but wow is that ever impressive. They do sell mostly the traditional cheeses but for the more adventurous and less dull among people they have interesting cheeses such as the one from Scandinavia which is like a dulce de leche but in cheese form. That was weird but not bad covered in chocolate.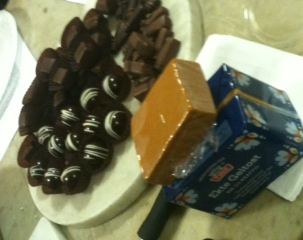 We had Gjetost batons enrobed with milk or dark chocolate, quince paste and Manchego Semi Curado squares enrobed with milk or dark chocolate, and a goat's cheese white chocolate ganache (made with Dorstone goat's cheese) with Paxton & Whitfield's Rhubarb and Ginger Jam wrapped in a dark chocolate dome, decorated with white chocolate stripes
There were also the chocolate and balsamic vinegar dressing and the freshly made white chocolate ganache with goat's cheese, pistachio nuts and cardamom.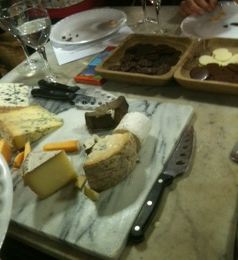 That is tricky stuff to completely enrobe a chocolate that includes cheese. I've seen what happens when it goes wrong and it isn't pretty. We also got to taste a fresh ganache made on the spot and chilled down as we tried other things. The one that drew many comments was the dome with the cheese ganache and the ginger and <something>
Interestingly cheese and chocolate is an idea pervading more and more psyches. I think this may yet become a popular type of ganache – albeit one with a short shelf life 😉