January 21, 2012
Amelia Rope Dark Chocolate with Whole Coffee Beans Review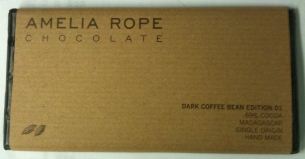 This is the second of the Amelia Rope chocolate bars that I received from the woman herself and this time it was a strongly flavoured bar.  I, of course, had no idea how strongly flavoured until I bit into it but that is for later.  Right now, I should say something about the chocolate.
With 69% cocoa and a Madagascan origin again, I knew what to expect from the chocolate. There is a slight chalkiness to the base chocolate to my palette but that's no bad thing when you are adding to it. It is reluctant to melt though and I'm not a huge fan of the base chocolate but what I am more of a fan of is the taste.
Chocolate isn't always about the base chocolate, though getting that right is important and Amelia Rope does some amazing things with the base chocolate she uses. Chocolate is about the whole experience and with this one, the experience is as much about the crunchy whole coffee beans as it is the chocolate they are in.
I am not a fan of whole coffee beans in chocolate and usually get husband to try them as they are usually too strong for me. Actually, they are usually low quality beans in bad chocolate and over roasted to boot. This chocolate was made by an expert though and so I was expecting great things.
I was not disappointed.  The coffee beans are good quality, mild to my taste and not over roasted. They crunch satisfyingly as you chew the chocolate and the chocolate itself has a delightful coffee flavour. Husband went nuts for this bar and I think I'm back in his good books (after not sharing for awhile).  If you like coffee, coffee beans and chocolate, this is likely to become a favourite. If you dig really strong coffee, this isn't quite going to be that but in its subtlety it enhances the experience.  All in all a really nice bar. Go on – buy yourself some!