March 22, 2013
Toot Sweets Glamour Puss Easter Egg Reviewed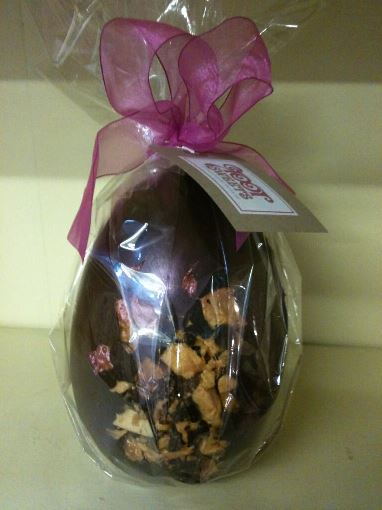 I've given this egg its name because I'm not sure it has one. Given the honeycomb picture window front, the all-over dusting with glitter and the glitter all over the salted caramels inside, I decided to call this egg the Glamour Puss egg in honour of the glitter 🙂 I hope Julia who owns Toot Sweets doesn't mind 😉
This egg arrived in more than one piece but who cares? It left the shop for its cross-country adventure looking like the photo I was sent so I include it here because this diva egg is for collection only. She doesn't do post dahling don't you know 😉 The egg though is visually stunning with the honeycomb and the glitter but that's not all that is special about this egg…
The egg itself is made with Amedei 70% toscano black chocolate which is some of the best available on the market. The shell is thick – so thick where the honeycomb is I had to cut it with a knife! The chocolate is delicious and if you know someone who is a dark chocolate lover, this is going to be an amazing gift just for the shell alone but the shell alone isn't what you're buying the egg for.
When you buy these eggs you can choose your filling but the one I was send had salted caramels. Now, at this point you may wonder why I haven't any images beyond the one I was sent. That would likely be because I was so distracted by how amazing the salted caramels were, I simply didn't have enough brain power to photo them. All of them. I ate ALL OF THEM without taking a single photo they were THAT GOOD. Unsurprisingly, they won silver at the Academy of Chocolate awards so that is my excise as to how I ate all of them without taking a single picture. Yes, they were THAT good.
I know you can pick your filling for the Glamour Puss egg but I encourage you to get the sea salted caramels (unless you hate delicious runny caramel). In fact, I encourage you to order this egg as the Glamour Puss egg 😉 It's British-made by a small company and is for collection only but it is well worth it and at £20 it is UNDERPRICED so I also encourage you to buy it now, before Julia realises she's likely only barely breaking even on these eggs and raises the price. SRSLY if I lived nearby I'd be buying one – or at least more salted caramels!