March 21, 2013
Paul Wayne Gregory Mango Easter Egg Reviewed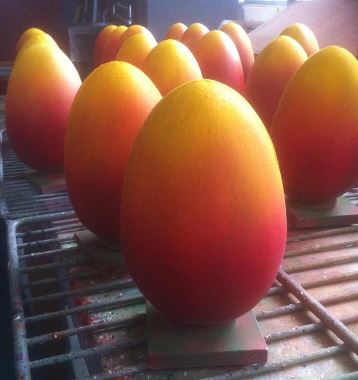 There are a lot of Easter eggs on the market this year – some are delicious but have minimalist decoration. Some are visually stunning but the decoration seems to be a method of distracting from the poor quality of the chocolate. There are few where the decoration is both beautiful and the chocolate is of a good quality.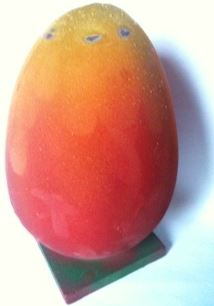 One of the few eggs of good quality and beautifully decorated is the mango egg from Paul Wayne Gregory. This egg is a delightful milk chocolate egg with freeze-dried mango inclusions which has been carefully shaped and then painted with a special kind of cocoa butter paint that Paul pioneered. The effect of this care and attention is an egg that is absolutely beautiful on the outside and delicious on the inside (so to speak).
The effect of the mango painting is much like a sunrise – the oranges, reds and golds absolutely reflect the promise of the morning of Easter when it is crisp, clear and full of chocolate 😉 The beautiful painting on the egg seems almost a shame to spoil but eating the grass – the base of the egg painted green – doesn't work so reluctantly you have to break into something that is an absolute work of art. It's a shame to do so but only then can you get at the milk chocolate deliciousness.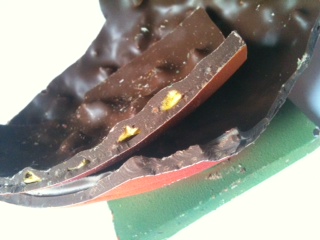 Most people prefer a milk chocolate egg on Easter morning – that sweet, melt-in-your-mouth treat that you cannot wait to get in to. This milk chocolate is really good quality and the freeze-dried mango inclusions make it extremely special. It's like a slightly tangy crispy inclusion in the milk chocolate that makes the flavour just a bit more special. The mango isn't squidgy or chewy because of the freeze-drying process. It's crisp and crunchy and yet tangy and quite distinctly mango flavoured. So it isn't a typical fruit inclusion in chocolate and I think it is nicer.
I'm no lover of fruit in my chocolate as regular blog readers may know. I do not choose fruit in my chocolate lightly and yet I chose this egg when offered one for review. Why? The freeze-dried fruit promised to be crisp, the chocolate promised to be better than average and the look of it was absolutely stunning.
If you're looking for a British-made egg that is both beautiful and delicious, I urge you to buy one of the new line from Paul Wayne Gregory. The others are dark but the mango is milk and absolutely delicious. Paul's shop 's called "Indulgence" and he will also be at the Southbank Chocolate Festival where he will be doing a demonstration and selling his chocolate creations.