June 5, 2016
Best Chocolate Chip Cookie Recipe Ever – TheBoyWhoBakes Chocolate Chunk Cookie Recipe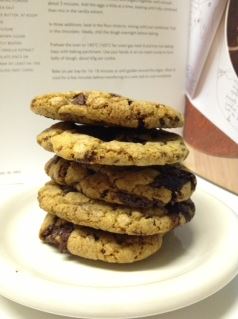 So I decided to make some chocolate chip cookies.  Not just any choc chip cookies though – I decided to create some chocolate chunk cookies based on the recipe provided by the Boy Who Bakes in his awesome cookbook which you should go out and buy.  It is available at Waterstones and is full of interesting information, tips, techniques and stories.
One of the recipes is for his chocolate chunk cookies and this holiday I decided to make some. Now, this is a heavy recipe and makes a lot so I checked with Edd and he says you can create individual balls of batter (he uses an ice cream scoop) and freeze them to use later. You'll want to as one of the ingredients is 500g of chocolate! This is the best chocolate chip cookie recipe I have ever tried, made, frozen, made again and gotten really fat on 😉
Makes about 25 it says but I made 32
Ingredients: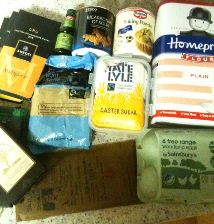 500g plain flour
1 teaspoon bicarbonate of soda
1 teaspoon baking powder
1 teaspoon of salt
250g unsalted butter at room temperature (Edd calls for 225g)
220g caster sugar
220g light brown sugar
2 eggs, lightly beaten at room temperature
1 teaspoon vanilla extract
500g chopped chocolate
Instructions:
First thing to do is assemble all you need and make sure you have everything. The use of plain flour but bicarb means you control how much the cookies rise (only a little).
Preheat the oven to 180C (I use a fan oven so I set it to 160C) and line two baking trays with baking parchment or all that you own and then some as these are big cookies.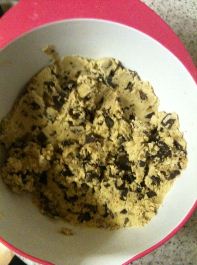 First sift everything together. I put part of the flour in a sieve then the bicarb, baking powder and salt. I then add the rest of the flour and sieve it through.
I used an electric hand mixer to first whip the butter a bit then added the sugars to it. I beat until smooth but not fluffy. Edd suggests 3 minutes but it took me that long just to get the sugars all into the bowl 🙂 but once you have it well mixed but not too mixed (this isn't for a cake admonishes Edd) add in the lightly beaten egg a bit at a time.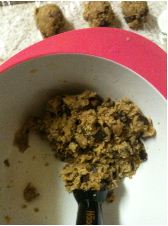 Now Edd suggests mixing in the flour mixture in thirds and this worked very well for me. At this point, once you've finished beating in the flour it is going to be a little dry but the next bit is the important part. ADD IN THE CHOCOLATE. Now, Edd suggests chilling the mixture before baking but I used an ice cream scoop to measure 60g balls and froze them then placed them on the baking tray still frozen – YUM!
Now, bake for 16 – 18 minutes or until golden brown around the edges. I let them cool as the chocolate is *really* hot so don't eat them right out of the oven.  Now once they are cool enjoy!