October 15, 2019
Dark Chocolate Almond Ginger Bark Recipe – Simple & Easy!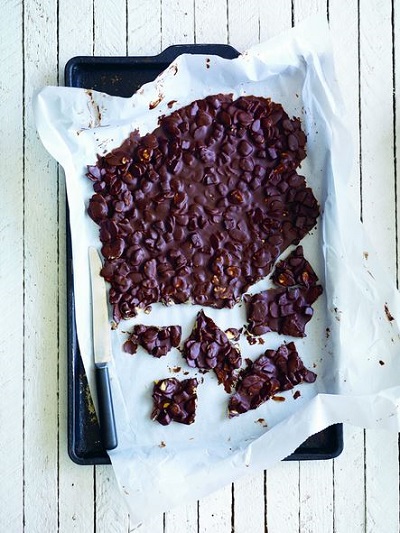 So it's the holidays and back when I was younger I used to make my gifts. I remember one Christmas when the boiler went out before the holidays I baked to stay warm until the repairman could come. I baked masses of shortbread but I also made truffled and bark like this. It's a wonderful treat and don't tell anyone but I'm baking and making again this year.
Here is the superbly simple yet utterly decadent Dark Chocolate Almond Ginger Bark, featured in the Guittard Chocolate Cookbook (Chronicle Books). Easily purchased in a variety of different forms, Guittard is available from Lakeland, Whole Foods, M&S and Ocado. It was actually at Lakeland's Christmas preview that I first tried this chocolate used by Paul A Young and in his expert hands it was delicious.Guittard has been expertly crafting their products using traditional French methods in San Francisco since 1868.
This treatment of the almonds will help make everything taste wonderful together and while I don't always add fruit, you can be as imaginative as you wish like using red and green cherry pieces to make holly on top (but be quick!)
Ingredients:
230g sliced almonds
30g icing sugar
2 Tbsp golden syrup
1 Tbsp warm water
50g candied ginger or other dried or candied fruits, cut into 2.5cm dice
340g Guittard 74% Bittersweet Chocolate Baking Wafers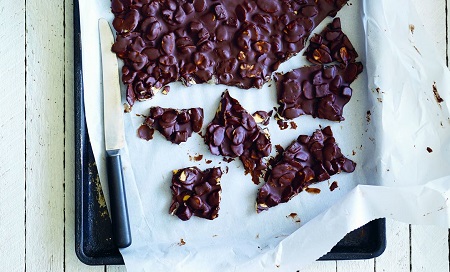 Method:
Preheat the oven to 180c.
Line a rimmed baking tray with greaseproof paper.
In a small bowl, combine the almonds, icing sugar, golden syrup and water and mix until the sugar has dissolved.
Pour the almond mixture onto the prepared baking tray and spread it in a thin, even layer covering the entire tray.
Toast the almond mixture for about 15 minutes, stirring occasionally, until the almonds are golden brown.
Remove from the oven and let the mixture cool in the pan on a wire rack.
When the almond mixture has cooled to room temperature, add it to a medium bowl along with the candied ginger and mix to combine if you choose to use the ginger. I don't always choose fruit for my bark.
Set aside.
Melt the chocolate using a hot water bath or the microwave oven (careful to only use short blasts or you'll burn the chocolate).
Stir until completely melted and smooth.
Cool the chocolate a bit.
Add the melted chocolate to the bowl with the almond-ginger mixture and stir until the almonds and ginger pieces are uniformly coated.
Pour the mixture onto the prepared baking tray (re- line with greaseproof paper, if necessary), and use an spatula to spread it out evenly, working quickly so the chocolate does not set before an even layer can be created.
At this point to make it more festive you could add sprinkles, coloured sugar or any festive sugarwork pressed quickly and carefully into the melted chocolate.
Let cool at room temperature for 30 minutes then refrigerate until the chocolate is hard, at least 3 hours and up to overnight.
Break the chocolate bark into pieces. Store in an airtight container in a cool place for up to 2 weeks.
You can buy Guittard chocolate from Lakeland as I linked to above or from https://www.guittard.com