February 9, 2011
Paul A Young Valentine's Day Chocolates Review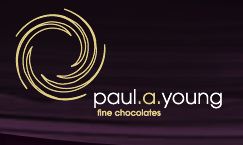 Few things delight my heart as much as high quality chocolate from the likes of Paul A Young and so when I was gifted with a chocolate rose and chocolate hearts with rose water ganache (as in a water ganache with rose, not a ganache made from rose water :-D)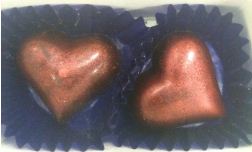 As you can see, this rose water heart chocolate has an edible natural pigment on the chocolates.  This gives them a metallic rosy glow which is just beautiful and a welcome change from the usual tinted white chocolate.  Not that I am not in love with Pierre Marcolini's chocolates but this is a welcome change.  The ganache inside is a water based ganache and so is dairy free and that means with the 62% dark Brazillian chocolate (a lovers chocolate!) this makes it the perfect gift for anyone.  In fact, if someone secretly in love with me wants to send me a box of 4 of these and 5 sea salt caramels from Paul's shop, I won't refuse the delivery!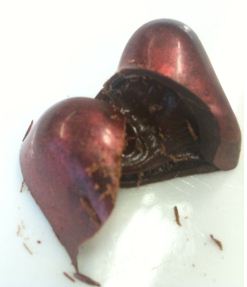 The ganache is very loose and so biting into the chocolate is something that has to be undertaken with caution.  The Brazillian chocolate is delicious and while the rose essential oil does add that Turkish Delight element all I can think is how much more I want of these.
While the dark chocolate is slightly bitter, there is a sweetness to the ganache that balances it out.  There is a subtle acidic kick to the chocolate which leaves a pleasant tingling in the cheeks and that just adds to the enjoyment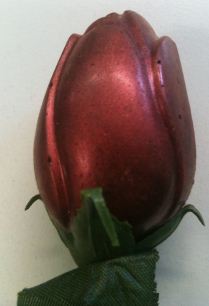 When my secret admirer is sending me chocolates, I'd like for him/her to include some of these long-stemmed dark chocolate roses please.  I remember seeing them last year and thinking how there wasn't a hope in heck I'd get a dozen of these for Valentine's Day (and how I'd never be able to bring myself to eat them anyway).  They are absolutely beautiful and it broke my heart to have to cut into it for the review.  Tip – don't bother cutting – break it open along the seam.  This is a 68% Ghanaian dark chocolate and oh how I love it.  I don't taste the organic rose oil as distinctly as I did in the ganache here.  The dark chocolate is bold and the rose oil is a hint in the background you get as you let it melt in your mouth.  It hides in the flavour of the chocolate, peeking out in the taste as a delicate aftertaste that you catch a hint of after you finish a piece and have savoured it.  It is the whispered memory of the rose that lingers on your palette as your savour the anticipation of the next bite.
The rose water chocolate hearts had to meet my tough standards and they absolutely did.  They were delicious and strongly rose flavoured meaning there was a delicious rose flavour in each bite.  I loved them!  The rose… ah the rose was a joy to receive and it is a thick, solid dark chocolate and thus be careful when trying to bite into it.  The chocolate is delicious itself but the hint of rose essential oil you get at the end is just the icing on the cake.  I doubt husband will get me any of these roses for Valentine's Day but a girl can dream…
You can buy these chocolates from one of Paul's shops (remember to pick some up for me)