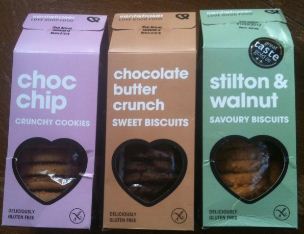 I got four different types of cookies from Kent & Fraser but regrettably one arrived in pieces – the terrible dangers of post being illustrated in the boxes I got, let alone the crumbs in the one packet of a pair of cookies that arrived in crumbs. Still, most of these 3 boxes were whole and so I thought I'd give them a review!
According to their website "Award winning Kent & Fraser have a passion for good food and we really love to bake! We have dedicated ourselves to creating an outstanding range of great tasting, hand-made and 100% natural, gluten-free biscuits, cookies, and shortbread that are packed full of taste and deliciously that bit better." As someone who is actually allergic to wheat (I'm fine with gluten – I'm not fine with wheat in any form), I was eager to try these cookies which have replaced traditional wheat flour with rice, maize and other bits.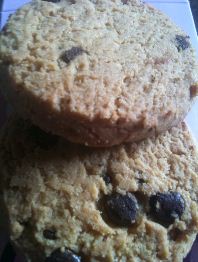 Choc Chip Crunchy Cookies – yes, these are very crunchy cookies. I think they need a dipping in tea but they are also very buttery cookies. They are really nice and rich but could do with more chocolate 😉 I think that these, of the 3 I tried, were my favourite cookie. Of course, everyone's taste is different… These are gluten and wheat free and have no eggs. I'm not anti-egg but nice to have no wheat and still have it taste like a cookie.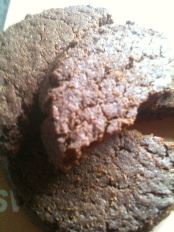 Chocolate Butter Crunch Sweet Biscuits – These were very chocolaty but not as buttery as the choc chip and thinner. They are really cocoa and chocolaty and a little less sweet, in my opinion, than the choc chip. I did like them but my favourite really is the choc chip. These are wheat, gluten and egg free as well.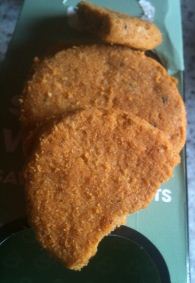 Stilton & Walnut Savoury Biscuits – These were not quite my cup of tea but they are delightfully herby and the crunch of the walnut is pronounced without being overpowering. While strongly flavoured with stilton and not as much of walnut but also balanced with the flavour of herbs, they weren't quite to my taste. These biscuits are wheat, soya, gluten and egg free so a real global biscuit for a number of food sensitivities.
Of all the types I tried, the exceedingly buttery choc chip cookies were my favourites.  They are all quite crunchy but most packet cookies are. They are free of a number of allergens and so will be perfect for you or your family. Just pop on over to the Kent & Fraser site, pick a type and harass your local supermarket until they carry them!
Facebook
Subscribe
Check out my Recipes, Reviews and more!
Links on this Blog
All links on this blog are editorially given. Do not contact me for link exchanges. Reviews do not guarantee links. I do not add links to articles already written unless I want to, and any requests to do so will be refused (and may result in the review being withdrawn). I reserve the right to remove links from reviews at any time for any reason including but not limited to whim. I am not your link bitch, don't try and treat me as such.
Grammar Warning: I am clearly aware that my grammar is sub par. Please excuse any typos or miss-spelling of words you may come across when reading this blog. There is no need to write or notify me. Thank You Kindly.



Lovely #RitterSportUK #chocolateweek delivery all for ME! Every type of #rittersport bar available including my all time favourites #cornflakechocolate and #biscuitchocolate among others.
The bars are very moreish and I find dipping in #hottea to slightly melt the #chocolate🍫 is the absolute best way to eat it.
I'm so in lust right now! Too easy to eat a whole bar in one sitting is the problem 😁
.
.
#chocolatebar #chocolatelove #chocolategram #chocolatelover #chocolate #lovechocolate #instachocolate #chocolategram #loverittersport #rittersportchocolate #chocolateaddict #chocolatelovers http://ift.tt/2gEAwaH




The amazing @the_taste_lab launched their 2018 calendar with exciting courses and events plus their #GoldenWhisk club with exclusive access to events and early special access to courses today. Very exciting to meet legends like Benoit from @lemanoir and @luke.frost plus special guest star @samthechocolateman doing his #boozy thing!
Everything was delicious - thank you to all the chefs for their epic work!!
.
.
.
#chocolate🍫 #chocolatedessert #Valrhona #valrhonacerclev #cerclev #Valrhonachocolate #chocolatelove #cocoalove #perrierjouet #tastelab #tastelabprofessional #dessert #cakelove #lovechocolate #lovecake http://ift.tt/2wZrQB5
This Site Uses Cookies for Analytics
If you don't want to be analyticsalised with a cookie from Google, best pop off to another site.