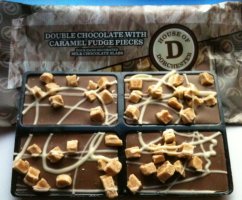 These four decorated slabs are 10g each and extremely sweet.  I think these are best with coffee or another strong bitter flavour.  They aren't bad – they are simply extremely sweet.  The fudge is a bit dry but it would have to be in order to preserve the structural integrity of the bar in transit to the shops it will be sold in.
I can't say I would necessarily choose this as a bar I'd buy because it is far too sweet for me but I am sure others who prefer a sweet milk chocolate would enjoy it.  I think I'll stick to Paul A Young or Askinosie bars 🙂
Subscribe
This Site Uses Cookies for Analytics
If you don't want to be analyticsalised with a cookie from Google, best pop off to another site.
Check out my Recipes, Reviews and more!
Links on this Blog
All links on this blog are editorially given. Do not contact me for link exchanges. Reviews do not guarantee links. I do not add links to articles already written unless I want to, and any requests to do so will be refused (and may result in the review being withdrawn). I reserve the right to remove links from reviews at any time for any reason including but not limited to whim. I am not your link bitch, don't try and treat me as such.



It is so exciting !!! 🎉 @jagermeisteruk #JagerLCW is shaking up London Cocktail Week with a selection of tasty cocktails including; Jägermeister Mule, Manifest Hunters Tea, Jägermeister Sour and Jungle Hunt.
.
They have this amazing pop-up bar in Brick lane but I know not everyone can make it into London so why not make your own pop-up bar experience by making these cocktails at home or for your next party? Come on - you know you want to! Or pop on down Sunday for the full experience and hey - KEYCHAIN!
.
Want the full cocktail list? I'll be blogging them soon!
.
Jägermeister Sour
What you'll need (per drink): 40ml Ice-cold Jägermeister, 25ml Lemon juice, 12.5ml Gomme, One egg white, Orange zests, Ice cubes, Tumbler glasses
How to Make
Step 1: Throw a handful of ice cubes in each tumbler
Step 2: Fill your cocktail shaker with everything else – then shake it like you mean it
Step 3: Strain the liquid twice for good luck into the waiting tumblers
Step 4: Add with slices of oranges to taste. Now it's all ready for you to drink it! .
.
Jungle Hunt
What you'll need (per drink): 20ml Jägermeister, 20ml Taylor's Velvet Falernum, 20ml Plantation Pineapple, 20ml Lemon Juice, 40ml Pineapple Juice, 15ml Cinnamon Syrup (Giffard), 2 Dashes Angostura Bitters, 1 Pineapple Leaf, de-hydrated lemon wheel, Burnt cinnamon stick
How to Make
Step 1: Pour Jägermeister, Taylor's Velvet Falernum, Plantation Pineapple, the lemon juice and cinnamon syrup together into a shaker – aaaand mix!
Step 2: Add two dashes of Angostura Bitters
Step 3: Decant into a glass of your choice and garnish with the pineapple leaf, the lemon wheel and cinnamon stick – now you're ready for a hunt in the jungle, with a drink in hand. .
#thisislondon #seemorelondon #londonisopen #visitlondon #londonliving #ilovelondon #lovelondon #londonist #london_only #londonforyou #londoncity #londoncitylife #lovelondon #london❤️ #london🇬🇧 #londonfoodie #cocktailporn #cocktails🍹 #cocktails🍸 #cocktailstyle #cocktailsanddreams #jagermeister #jagermeisterparty #jagermeistercocktail #jagerbombs #jagerparty #popupbar #lcw #londoncocktails #londoncocktailweek https://ift.tt/2PgC365




Tasting coffee at the @nespresso.uk Boutique on Regent St and learning about the Master Origin range of pods made from single origin coffee (plus delicious desserts). I chose Nicaragua and Ethiopia and both were amazing - though the Nicaragua was a step above. Of all the @nespresso pods I've tried, the Nicaragua stands out in my mind as the most delightfully distinct, with a complex palate and little bitterness making it a sublime espresso shot. I don't do plain espresso shots but I will with the Nicaragua pods.
.
.
.
#coffeebar #espressolab #espressoshot #coffeeshots #nespresso #nespressomoments #nespressoclub #nespressocapsules #nespressocoffee #nespressoboutique #coffee_inst #coffeelover #coffeehouse #coffee_time #coffeeholic #coffee☕ #espressobar #espresso☕️ #espressohouse #espressolove #espressocoffee https://ift.tt/2DIofzT
badges
Grammar Warning: I am clearly aware that my grammar is sub par. Please excuse any typos or miss-spelling of words you may come across when reading this blog. There is no need to write or notify me. Thank You Kindly.