March 16, 2021
Yuzu & Honey Hot Cross Buns Easter Recipe from @YutakaEats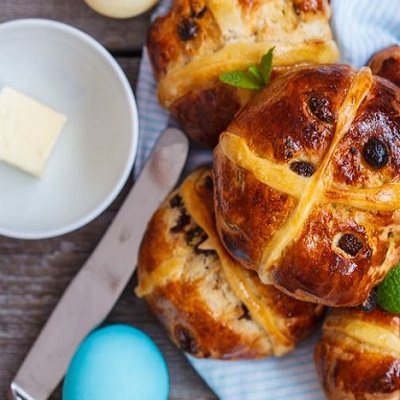 Bring a little Asian fusion into your Easter celebrations with this Yuzu and Honey Hot Cross Buns from Yutaka. Yutaka means 'good harvest' in Japanese and that's exactly the aim of the company: to create authentic Japanese food products made in the traditional way.
The yuzu gives them a zesty tang, whilst the honey imparts an additional depth of flavour. I wouldn't normally blog something as complex as this recipe is but they are so delicious and wonderful I simply couldn't resist. I am not a hot cross bun lover at all but this recipe with some slight tweaks I made was delicious!
www.yutaka.london is the UK's leading Japanese food company with its range of authentic, traditional ingredients that enable you to make everything from sushi to delicious katsu curry in the comfort of your own home. And having visited Yokohama I sure know my katsu curry – you really do need to try it!
So let's get down to making these suckers because if it is your first time you'll need to take some time.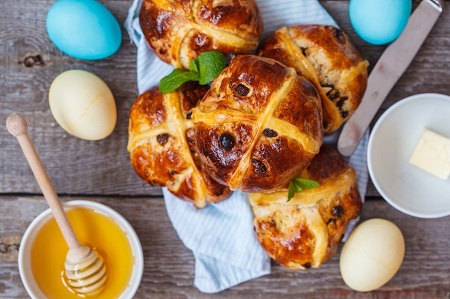 Yuzu & Honey Hot Cross Buns Easter Recipe
Makes 15-20
Ingredients
For the buns:
575g strong bread flour
75g caster sugar
75g sultanas (you can replace with dried currants which I did as they don't get as squidgy)
50g mixed peel (don't use jelly candied peel – trust me)
7g quick working yeast
1 tsp salt
1/2 tsp ground nutmeg
1/2 tsp ground cinnamon
250ml milk
3 tbsp honey
1 1/2 tbsp Yutaka Yuzu
2 tbsp water
Zest of 2 lemons
50g butter
2 eggs beaten
For the cross:
75g plain flour
For the glaze:
1 tbsp caster sugar
1 tbsp water
Method
Combine the flour, sugar, yeast, salt, nutmeg and cinnamon in a large bowl.
In a small saucepan, heat the milk, honey, yuzu, water, lemon zest and butter stirring constantly until butter has melted. Remove from heat and let cool 5 minutes then pour into a well in the centre of the flour mix.
Combine using a wooden spoon then use your hands until the ingredients are all combined. Tip out onto a floured surface and knead for around 5 minutes, until the dough is smooth and stretchy.
Place your dough in a greased bowl, cover with cling film and leave somewhere warm to rise until doubled in size. Then add your sultanas and mixed peel whilst still in the bowl, knead to combine all the ingredients and leave once again to rise for about an hour. Make sure the cling film is also greased to avoid a crust forming on your dough.
Once the dough has risen again, divide into 15-20 pieces and roll into smooth balls. Line them up on parchment-lined baking trays allowing enough space for them to once again expand. Cover with a clean tea towel and leave for a further hour.
Preheat oven to 220c or gas mark seven. Mix the flour for the cross with some water to make a basic dough. Place in piping bag and pipe one line across each bun then repeat to form the cross.
You can brush buns beaten egg to give a glaze.
Bake for around 20 mins or until buns are golden brown on top. Remove pan from the oven and let buns cool on a rack for 15 minutes.
Mix the caster sugar with boiling water and, once buns have cooled a little, brush with glaze.