January 21, 2013
William Curley Champagne Dessert Bar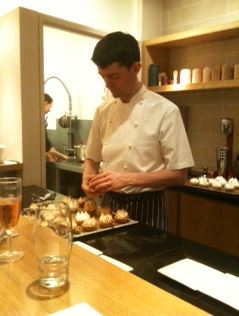 I'm a bit of a fan of William Curley's dessert bar. I love sitting at the bar watching each dish get created. I remember having my very first madeleine straight out of the oven at the dessert bar and I've never been able to eat a packaged one again – even from Pierre Herme in Paris. William's dessert bar changes you…
Fans and neophytes alike have been going absolutely crazy for his champagne dessert bar and they sell out quickly. Held in the evening rather than during the day on the weekend, the champagne dessert bar features the traditional five dessert courses, all made from scratch by William and the team, along with three different champagnes (you can opt for the sober option with no champagne – he has a huge array of herbal and traditional teas as well as coffees).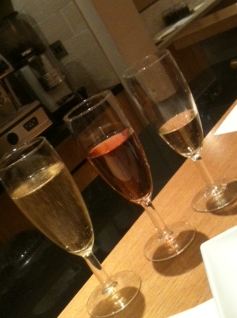 The extreme value of this evening dessert bar is why it sells out. At only £30 for a dessert bar with three glasses of champagne and an extra course over the weekends, don't miss an experience like this.
The dessert bar I managed to experience started with a Laurent Perrier champagne granita. This is like a coarse champagne ice with large flakes of delicious frozen champagne. Absolute perfection. It went on to a chocolate sorbet that was surprisingly dairy-free. I say surprisingly because it was so smooth and so creamy you would have sworn it was ice cream. We went on to the most amazing lemon meringue pie I've ever eaten. Sorry mom but even you would have to agree that this is a brilliant lemon meringue pie. The Pain Perdu of carmelised pears was just mind-blowingly amazing. To then finish the amazing toscano chocolate mousse with lemon thyme ice cream was amazing and the petit fours were chocolate perfection.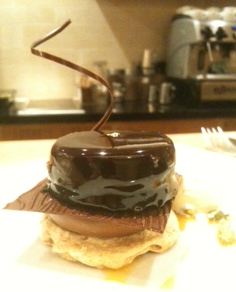 The weekend dessert bar from 1pm with no reservation required is special, but the evening dessert bar with the extra course and three glasses of champagne was extra special. The value of this event is outstanding and it is likely why it always sells out. Just stop reading this blog and go get yourself some tickets.
William's champagne dessert bar is extra special– something absolutely not to be missed. Be quick and grab a ticket for yourself or as a gift, just call 020 7730 5522