January 18, 2013
Scotch Malt Whisky Society Only For Women Whisky Tasting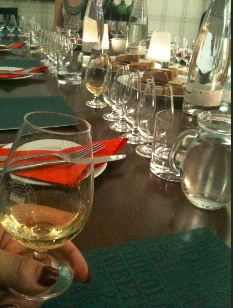 Never let it be said that whisky is only for men. I know that there is this stereotype that whisky is only for men and that it resembles drinking swamp water through a bonfire straw. This is not the case with fine whisky and certainly not the case at the Scotch Malt Whisky Society (or SMWS as it is known). Women are not only welcome as members, they are encouraged.
I was invited to a whisky tasting with Miss Whisky, tasting new whiskeys from all over the world and made by different processed and grains (see what I did there with the two spellings). These whiskies were specifically chosen for their suspected appeal to women. This is not to say that women like different whisky to men, nor that somehow women need different alcohol content or anything but merely that some women (and men) prefer a less-peaty whisky and there are plenty of them.
We sampled five different whiskies ranging from something light and almost floral through to some women's favourite of a rather peaty one. Not a personal favourite as the smoke gets into my nose and never seems to leave, I can understand why some love it. We even tried a Japanese whisky that was absolutely amazing and a grain whisky I was less fond of.
Interestingly, the SMWS buys whisky by the barrel before – long before – it is ready. They choose a cask and let it mature. Once it is ready, they bottle it and then have a fixed number of bottles of cask strength whisky to sell to their members. I have visited before but for over a decade I thought all whisky tasted like bog water (thanks to husband) and it was the SMWS that really opened my eyes to the fact it could be amazing.
I have to admit, I really enjoyed the evening. I liked tasting with other women (last tasting I went to was 90% men 🙁 ) and discussing how taste changed with them. There was only one man in our tasting and he was from the SMWS itself. He asked our opinion of the event and really, if I hadn't already been expecting husband to buy me a spouse membership, I would have bought one on the spot!
The SMWS doesn't just have whisky – they also have rum. Before this evening, I probably would only ever have selected the rum when I visited and never tried the whisky. After this evening I feel like as long as I know something about the flavour notes, I could drink whisky. Luckily, the SMWS has extensive notes about the flavours on each label and the names they are given also reveal a lot about the flavours.
As a woman, I would encourage other women to try the Scotch Malt Whisky Society. Go to a tasting, get to know a bit more about this private members' club and consider joining. When I have attended there has been a good balance of women and men, and it seems very welcoming. Whisky isn't just for men – it's for anyone who enjoys it!