June 16, 2015
Will Your Town Win a Chocolate Sign from Cadbury?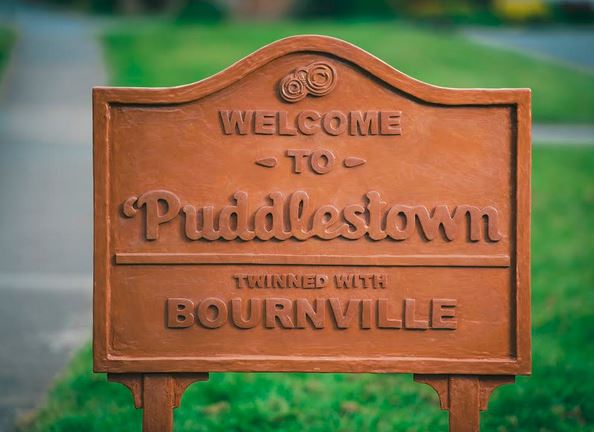 Cadbury Dairy Milk Puddles brought joy to Puddletown with a life-size chocolate sign made of 30 kilos of solid Cadbury Dairy Milk chocolate. For those who missed the weekend's events, the lucky residents of Puddletown, Dorset awoke to a tasty takeover complete with the first ever village sign made entirely out of chocolate. The especially hand-crafted sign stood a solid 4ft tall and took over 200 hours to create – but only moments for the residents to 'demolish!'
Cadbury has just announced that one lucky town will be treated to their very own chocolate sign as well as a year's supply of new Cadbury chocolate for the winner and their family. If the activities in Puddletown sparked your interest, and you have a love of chocolate, why not become the most popular person in your town by entering it for a chance to win the new chocolate Cadbury sign.
For your chance to win, simply take a selfie in front of any local town/road sign with the designated hashtag #joyofpuddles. Cadbury will then choose the most joyful selfie, via a prize draw, and award the town a personalised sign for one day only.
Matthew Williams, Marketing Director for Mondelez said: "After the great success we had at PUDDLEStown last week, we wanted to extend this further and give people the opportunity to vote for their own town to experience some Cadbury joy to celebrate the launch of new Cadbury Dairy Milk Puddles."
Cadbury Dairy Milk Puddles is available in 90g bars with two fillings, popular hazelnut flavour as well as moreish mint, both surrounded by deliciously creamy Cadbury Dairy Milk – the nation's favourite chocolate (According to the 2011 census).
To view full terms and conditions visit www.promoterms.com/cadburypuddles. For more information on new Cadbury Dairy Milk Puddles find us on Facebook at www.facebook.com/CadburyUK or tweet us at @CadburyUK using #FreeTheJoy.