June 19, 2012
Wild Trail Wholegrain Popcorn Cereal Bar [CLOSED]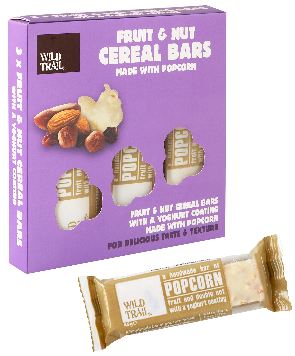 With my love of popcorn and relentless pursuit of Black Jewell Popcorn, how could I not try two interesting and intriguing new cereal bars. I love popcorn but for breakfast? In a cereal bar? With yogurt? Where was the chocolate?!? Well, my love of popcorn came out and I tried them anyway.
First I tried the fruit and double nut with yogurt coating. It was interesting – crunchy and soft and fruity and sweet. Interesting and light. It is really sweet and interesting and delightful. I think that if you're looking for a balanced sweet thing to eat for breakfast, you wouldn't go wrong with this. The nuts and carbs are the perfect thing for brekkie.
Next I tried the double cut cranberry – woah. Totally different. Kind of an intense fruitiness, with a slight edge of sour and sweet overall with some nuttiness (ah, there are nuts in it!). Really interesting – whereas the double nut was like other cereal bars I have had before with a sort of neutral honeyed nut with fruit flavour, with an added yogurt kick, this is more fruity with a nutty edge and sweet yogurt topping. Very different.
All in all I didn't get any unpopped kernels which is awesome and I did get a press release which I figure you might want to peruse. If not, well, maybe you'd like to win some? If you'd like to win a pack of each of the bars reviewed – that is six cereal bars, three of each kind – leave a comment here telling me where your love of popcorn started (comment must be over 10 words).
***CLOSED***
I'll ALSO be giving away TWO pairs of packs – that is I'm giving 2 people on Twitter the chance to win 6 bars! Just follow @WildTrailFoods and @MostlyAboutChoc and then tweet the following: I've entered to win SIX @WildTrailFoods new popcorn cereal bars with @MostlyAboutChoc & you can too here http://bit.ly/PdYTqe or for an easy way to tweet, CLICK HERE

To enter:
1)    Leave an original poem in the comments for me to judge
2)    Tweet: I've entered to win SIX @WildTrailFoods new popcorn cereal bars with @MostlyAboutChoc & you can too here http://bit.ly/PdYTqe or for an easy way to tweet, CLICK HERE

The rules:
1.Random.org will be used to choose the blog comment wnner. Then Random.org will be used to select TWO Twitter winners
2.The competition will finish at noon GMT on Sunday 24th June 2012.
3.The selection of winner will be based on randomness among qualifying entries.
4.Only available to UK mainland addresses.
5.No cash alternative available.
6.I reserve the right to exclude entries that I feel are inappropriate or not in the spirit of the competition. No pornographic comments please.
7.Your details won't be passed onto anyone else except the PR rep for the delivery of the bars to you.
8.I reserve the right to remove entries that I believe aren't human created or are an attempt to gain an unfair advantage such as automated entries.
Thanks to Loquax for the guidance on competitions!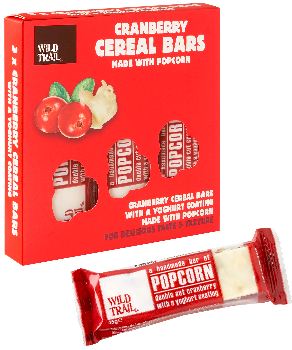 Here comes the press part:
Wild Trail's delicious Double Cut Cranberry and Fruit & Double Nut bars will be available to purchase in triple packs at selected Sainsbury's from 24th June.  The 135g packs retail at £2.39 and can be found on the cereal bar aisle.
Wild Trail's Double Cut Cranberry bar won gold in the prestigious Great Taste Awards. Crammed with plump & juicy cranberries the bars also contain almonds, walnuts, raisins, pumpkin seeds, honey and wholegrain popped corn. The Fruit & Double Nut bars contain Brazil nuts, hazelnuts, raisins, sunflower seeds as well as wholegrain popcorn and are hand-coated in yoghurt.
Wild Trail bars make for a wholesome gourmet snack. They are made with natural ingredients and are free from artificial flavourings, colourings and preservatives. They contain no hydrogenated fats and are suitable for vegetarians. Described as "nutritional gold nuggets" by scientists at the University of Pennsylvania in a report out last month, popcorn is extremely high in antioxidants – as well containing high levels of fibre, Vitamin B, Vitamin E and is low levels of fat.
The bars are hand-made and are the brainchild of 37 year old entrepreneur Gordon Leatherdale. Whilst eating popcorn in the cinema two years ago having been stood up by a date Gordon began to wonder if it was possible to make it a healthier snack from popped corn … this marked the beginnings of what would become Wild Trail Foods.
The bars are also sold in single bar format, including a third flavour Apple & Raspberry (rrp 99p). Four more exciting flavours being rolled out over the coming months. The single bars are available now at selected Morrisons stores, Selfridges, Harvey Nichols, Whistlestop Food & Wine outlets and online from Amazon.