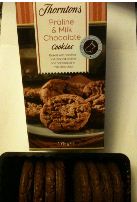 The nuttiness of this crumbly cookie is immediately evident.  This is another half dipped in chocolate cookie but unlike the triple chocolate chunk this is much crumblier, readily coming apart on the mouth.
There seem to be small chunks of nuts (hazelnuts and almonds I assume) in with the cookie which adds to the crumbly nature of the cookie, preventing it getting too hard.  The crumbly nature also makes it a pleasant cookie to eat but these are sweeter than others.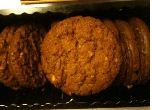 The praline seems to add a sweetness that is enhanced by the half-dip in the milk chocolate.  It is a dark coloured cookie, making it easy to identify the nuts, and it mixes well with the chocolate.  The texture of the cookie is also light with a slight hint of perhaps caramelization on the nuts leading to crunchy sugar in the cookie.
These are a bit sweet for me and maybe a bit nutty for me but I think they add a delicious additional line of cookies to this fantastic range.
Subscribe
This Site Uses Cookies for Analytics
If you don't want to be analyticsalised with a cookie from Google, best pop off to another site.
Check out my Recipes, Reviews and more!
Links on this Blog
All links on this blog are editorially given. Do not contact me for link exchanges. Reviews do not guarantee links. I do not add links to articles already written unless I want to, and any requests to do so will be refused (and may result in the review being withdrawn). I reserve the right to remove links from reviews at any time for any reason including but not limited to whim. I am not your link bitch, don't try and treat me as such.
Grammar Warning: I am clearly aware that my grammar is sub par. Please excuse any typos or miss-spelling of words you may come across when reading this blog. There is no need to write or notify me. Thank You Kindly.