October 1, 2010
TeaPigs Chocolate Tea
To round off a week of tea chocolate reviews, I thought I'd review a chocolate tea!  This tea came on my radar thanks to a friend and then was recommended to be at a trade show I was at.  The lovely gentleman on the stall helpfully taught me – and on video for all of you – how to make a hot chocolate latte.

This is actually a surprisingly good mug of tea when you make it at home.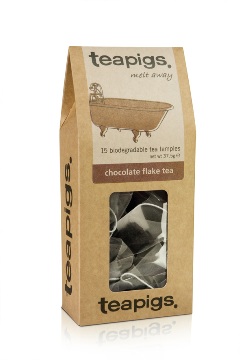 I would recommend having milk with this tea as I found it really make it like a cup of light hot chocolate although slightly different.  The flavour of the tea isn't strongly chocolate and adding milk doesn't make it taste like hot chocolate milk – it is more of a chai latte without the spice and more chocolate 🙂
The tea is whole leaf and the triangular gauze bag means you get a good full flavour.  This tea is delicious and I'd buy more – in fact I did at Waitrose.  There is a whole series of teas and chocolate is just one flavour.