January 18, 2011
Taza Stone Ground Organic Chocolate Review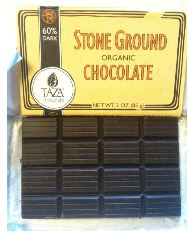 The immediate scent of chocolate from this is something else and the flavour reminds me of Soma Old School.  This is a challenging bar though because of the sugar and cocoa not completely mixed as in other bars. I had this bar awhile ago and setting this post finally live made me remember it all over again and I remember most of all how sweet it was as well as how delightful the cocoa nibs were.
I couldn't let this melt in my mouth as it is very coarse and the sugar is therefore very intense.  It was quite different though and a little nutty from the cocoa nibs.  The interesting thing about chocolate is that the size of the chocolate in suspension will change depending on the length of the conching.  Since this is "stoneground" it is already setting your expectation for large chunks of the chocolate with the sugar bound lightly together.
This is really quite nice but far too sweet for me.  Much like the Soma Old School chocolate bar, it is fun and delicious but challenging.  It is difficult to get through for me mainly because of the sugar but I found the delight from the roughly ground cocoa nibs was overbalanced by the raw sugar.  I think on balance I preferred Soma Old School but that is because it wasn't as sweet.  I was also thrilled to find I could enter my batch code and get all the information about it!  And here it is and look it even says who made my bar!
Batch Information
Variety: 60% Stone Ground Dark Bar
Made On: April 26 2010
Ingredients: Organic roasted cacao, cane sugar, cocoa butter, vanilla bean.
Last Made: March 30 2010

Cacao Origin:
Country of Origin: Dominican Republic
Provincia: María Trinidad Sánchez
Municipality: El Factor (El Pozo)
Area: Reserva Científica Loma Guaconejo
Fermentery Location: Lat. 19.293363, Long. -69.904128
Varietal: Mostly Trinitario; Some Criollo.

Growers & Farm:
Cooperative: Red de Comercializacion Loma Guaconejo
Grower: Fran Batita
Farm: El Yayal

Additional Ingredients:
Organic Cane Sugar – Jalles Machado
Origin: Sertãozinho (São Paulo), Brazil
Whole Biodynamic Vanilla Bean – Villa Vanilla
Origin: Villanueva (Puntarenas), Costa Rica
Organic Cocoa Butter, Natural
Origin: La Red Guaconejo, Dominican Republic

Roast Profile:
Lot Received On: March 29 2010
Lot #: LR31710
Bean Bill: Single Origin Hispaniola Cacao
Roast Date: April 21 2010
Roaster Model: Barth Scirocco 200
Max Temp: 236° F
Roasted For: 48 minutes

Production Info:
Grind Date: April 22 2010
Made By: Mike Schechter & Kellie Silsby
Total # of Bars Made: 1,306 Bars
Wrapped On: April 26 2010