March 7, 2012
Spanish Chocolate with Churros from Churreria Espanola Review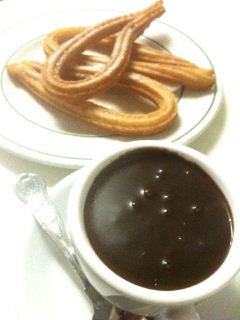 It was a rather chilly Saturday when I happened upon the lovely Churreria Espanola between Artisan du Chocolat and Paddington (before I gave up walking and decided to take the bus that is). This charming cafe is situated slightly off the high street and is a popular spot, known far and wide for its churros…. or at least along the street.
I popped in at just after the lunch hour rush and so was able to get a seat for a few minutes. The churros are sold individually. You buy the chocolate and you pay individually for the churros and my goodness are they yummy!
These are like deep fried long doughnuts with cinnamon sugar (you can get them without sugar) and you can just eat them on their own but when you combine them with the slightly bitter, deeply chocolaty, very thick chocolate it makes the untimate snack. This took me right back to Madrid and the first churros I ever tried.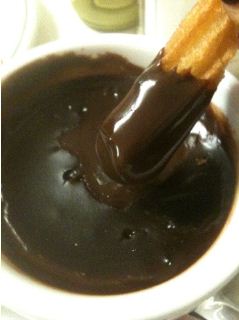 These churros are fantastic. The doughnut part is crisp and warm and perfectly prepared. They are great with or without the chocolate. I could just relax and eat them and read a boox, enjoying a relaxing day. So wonderful. Add the hot chocolate to the mix and whether you eat it with a spoon or with a churros it doesn't matter – it is thick, not to sweet and just perfect.
I don't know whether I'd make another trip back for them again as I'm wheat intolerant and I'm not completely convinced it is worth the trip into the middle of nowhere (for me) just for delicious, yummy doughnuts and chocolate but maybe I'll get back there more often than I get to Madrid 😉