May 31, 2013
Soma Papua New Guinea and Guatemala Dark Chocolate Reviewed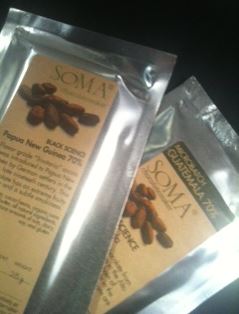 People who make chocolate and people who make chocolates are radically different – but Soma Chocolatemakers happens to be both. People who make chocolate select their beans carefully, clean them, roast them, crack and winnow them, take the nibs and refine them before conching which then can lead to tempering and the production of a chocolate bar. People who make chocolates take coverture which is either fully tempered or not and make ganaches, shells, etc from that chocolate and semm those finished chocolates but do not normally go from bean to bar – except for Hotel Chocolat, Soma and Pierre Marcolini as far as I am aware.
Soma is awesome, and not just because they hail from my native Toronto and give me these lovely chocolate bars which I have subsequently shared with fellow bloggers. It is because the genuine passion they have for chocolate married with the passion they have for technical geekery with the equipment means they create some of the world's best chocolate.
This pair of bars was part of a large bag gifted to me by Cynthia who runs Soma with her husband David. They have taken Soma from a small chocolate shop making chocolate in front of everyone's eyes to a pair of larger shops, making chocolate and chocolates in front of everyone's eyes. These bars are from my personal least favourite regions but I know people who would tear my hand off to grab this chocolate from it, so much do they love PNG or Guatemala origin chocolate.
Guatemala –  this single origin bar comes from Cahabon which lies in the Alta Verapaz mountain chain of Guatemala. The people in the co-op that grow these beans  are from the indigenous tribe Kekchi Maya who have consumed cocoa in drink form for thousands of years. The tasting notes for this chocolate are that it is earthy with lime and I absolutely agree. There is this rich fudgy chocolate flavour that transports that earthiness with it. The nose hints at a nuttiness, making me cringe but no.. the flavours are elsewhere.  For a moment you are almost fooled in to thinking it is bitter but it isn't – it's this rich deep flavour of earth and chocolate. There is an edge of the lime – like someone accidentally peeled a lime near the chocolate – it is zingy and clear but part of the whole experience. It is unchallenging – so less like an experimental jazz band in your mouth and more like a string quartet – each instrument almost indistinguishable from the rest. If you like dark but not bitter chocolate, this 70% bar is for you.
Papua New Guinea – apparently "flavour grade" Trinitario beans were introduced to Papua New Guinea (PNG) by German settlers in the late nineteenth century. This chocolate has an extreme fruity acidity in the middle after wowing you at the start with a hint of leather and the most subtly smokiness ever in any PNG chocolate in the history of forever. Normally I pass on PNG chocolate because it is too smoky and I don't like that in my chocolate or whisky but it is also that very quality that makes it pair with so many whiskies. This PNG is subtle – from the nose to the palate, it is almost like there was no added smoke. It has a delicate smokiness and you know it is there but it is a supporting act to the slightly fruity, acidic chocolate. The main flavour is if the chocolate with strong deep notes of just chocolate and the additional flavours skirt around the edge, like wallflowers at a party. Absolutely masterful.
While I am a fan of Soma and so it might be argued I exaggerate their awesomeness, I genuinely don't and I encourage you to discover their chocolates. Whether you drop in to one of their 2 locations (I love the King St location but you get more funny people watching done in the Distillery District) or order their bars online (ring them or send them an email), Soma is worth every penny you spend. I strongly encourage you to try any of their bars.