June 3, 2013
Maison du Chocolat Isle of Beauty Summer Collection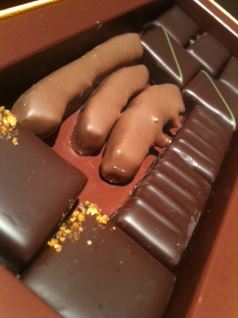 Each summer, La Maison du Chocolat embarks on a voyage in search of new flavours. Nicolas Cloiseau, Meilleur Ouvrier de France and Master Chef of La Maison du Chocolat, has chosen to take us to Corsica with a collection paying tribute to the emblematic ingredients of the isle.
On this fragrant island where scrubland, garrigue, and mountains intersect, native flavours are inscribed with the untamed nature of this rugged terrain. Completely smitten by its frank flavours, wild vegetation, and citrus fruits with complex flavours, Nicolas Cloiseau gives his personal vision of this isle of beauty using fruity and acidulous associations with chocolate.
That's the pamphlet version – here's mine. It's delicious, yummy chocolate with tart yet not bitter fillings. They are not challenging and so complete approachable and not at all intimidating. The flavours are fresh and delightful, fully evocative of summer. I tried each of the five flavours in the box and here is what I thought: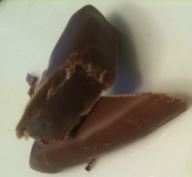 Citronnette – crunchy lemon rind delicately candied and enrobed in milk chocolate. Mine was firm rather than crunchy and I found that firmness readily gave way to the more squidgy texture we all know and love. There was a hint of slight bitter I associate with pith but this is a rind so it is exactly what you'd expect and I am so grateful it is lemon and not yet another orange 🙂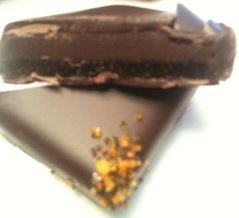 Clementine – Fruity duo featuring a delicate gelee of clementine juice and dark ganache with clementine cream. I thought this was fab! The slightly tart gelee was the perfect complement to the ganache. It was slightly tart, lightly fruity and very evocative of oranges in summer…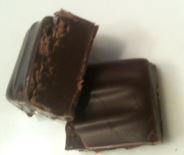 Maquis d'Ete – Dark ganache flavoured with summer maquis honey and Corsican fig. I'm not entirely sure what I'm meant to do now… I only have 2 of these and I need more… like an addict… the crunch from the fig seeds is rare but there, the honey is an absolute joy of deeply dark sweetness and together in the chocolate it in like a piece of heaven. The honey lasts in the nose as well so you keep getting a hit of that lingering flavour. I'm saddened only because I know it is a limited edition but at least I know I can buy more now 😉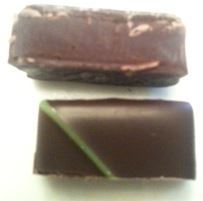 Nepita – dark ganache flavoured with an infusion of Nepita Corsican mint with notes of fresh herbs and peppery mint. This sounds scary but it isn't. The flavours are gentle and muted and fresh. The herbs are delightful and more of a subtle addition rather than a stand-out flavour. The balance is perfect with the chocolate but the mint is what you remember – an almost mint infused in cream smoothness comes through the nose from first to last and it doesn't have that toothpaste or After Eight flavour. It is a gentle mint like something you caught a hint of on the wind as someone nearby crushed some in their hands. So gentle and mild everyone will love it.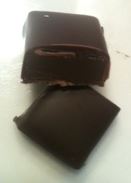 Ampamakia, dark plain ganache reveals the fresh zesty, citrus notes of this cacao from Madagascar. This is a wonderful, smooth dark chocolate ganache with fruity flavours from the chocolate coming through. I could probably eat a box of these to just continue to savour the flavours. Absolutely gorgeous treatment of the beans to get that light citrus note naturally from the bean coming through in the ganache. There may be no added flavours in this one but it tastes absolutely phenomenal.
All in all this is a brilliant collection. Whether as a gift for someone else or for yourself, the flavours are complex but not challenging so anyone can enjoy them. I hope they have a fee of these flavours on the counter as I'd like to buy myself a box of just the Maquis d'Ete and the Ampamakia!