December 7, 2017
Simple Rosemary sea salt caramels Recipe from Waitrose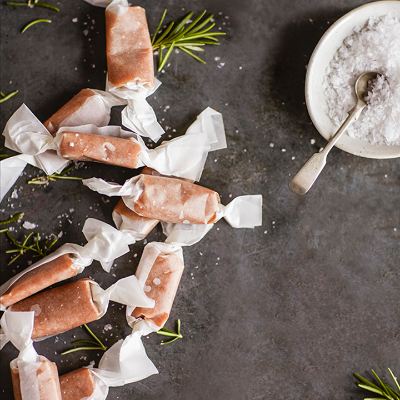 These caramels are buttery and smooth with just enough chew, plus a hint of rosemary to cut through the sweetness. It was so weird I was thinking that it might not work but it so totally does. The only think I'd say is that when using rosemary go light with it because it is super intense and so I've adjusted this Waitrose recipe a bit. These are just weird enough to be AWESOME and make perfect gifts. The only thing about these is that kids shouldn't help with the cooking as hot sugar burns severely.
Preparation time: 25 minutes
Cooking time: 20 minutes
Makes: 40
Ingredients:
200ml double cream
3 small sprigs fresh rosemary, leaves picked and coarsely chopped
65g unsalted butter, cubed
50g light brown sugar
175g caster sugar
125g golden syrup
1 tsp vanilla extract
large pinch sea salt
sunflower oil, to grease
Method:
1. Lightly grease an 18cm square cake tin with oil and line with baking parchment.
2. In a medium saucepan, bring the cream just to the boil, then turn off the heat. Add the rosemary and cover; leave to infuse for 25 minutes (Waitrise suggests 45min but I found this was too extreme for me). Strain the cream through a fine sieve into a clean pan (discard the rosemary).
3. Add the butter and light brown sugar to the cream and cook over a medium heat, stirring, to dissolve the sugar. Remove the pan from the heat.
4. In a large, heavy-bottomed pan, combine the caster sugar, golden syrup and 3 tbsp water. Sweep down the sides of the pan with a damp pastry brush so there are no sugar crystals around the edge. Heat the mixture, stirring, until the sugar has dissolved, then bring to the boil.
5. Cover with a lid for 1 minute, then remove; insert a sugar thermometer and cook, without stirring, until the mixture reaches 149°C. If it looks like the caramel is burning in spots, gently and carefully swirl the pan.
6. Whisk the warm cream, brown sugar and butter mixture into your caramel and continue to cook until the mixture reaches 120°C.
7. Remove from the heat and stir in the vanilla and sea salt.
8. Pour into the prepared tin; leave to cool completely at room temperature then chill for 1 hour – this will make the caramels easier to cut.
9. Turn the caramel out of the tin; remove and discard the parchment, then use a lightly greased knife to cut into pieces.
10. Wrap individually in squares of waxed paper although I have used just more parchment and bits of string.
11. Store the caramels in an airtight container in a cool, dry place for up to 2 weeks.
Waitrose hired an agency to outreach this recipe and more and are hoping for a link and since I found it useful I hope you will to – the link is http://www.waitrose.com/home/recipes/christmas_recipes/christmas_gifts_to_make.html I wasn't paid to place this, I wasn't invited to holiday drinks or events (bar Xmas in July) and was not gifted anything to post this. I was offered it and liked it so posted it!