June 7, 2012
Sainsburys Continentaql Breakfast Frozen Pain au Chocolat Review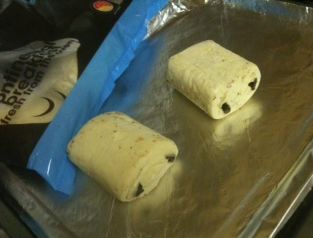 You may or may not be aware that Sainsbury's (and apparently Waitrose) have in their frozen section pastries you can bake. I have to admit, I had not considered the possibility until someone on Twitter mentioned that they were having them for breakfast one weekend that I even ever thought about it.
So it was with some amusement that my husband found me steering him deliberately one day towards the frozen section, and not fresh, to find these possible delights. Quick and easy and a real treat, this was something he found himself looking forward to as well.
These unassuming baked goods come in a bag with not much fanfare. Indeed I was unsure I had even grabbed the right thing initially and had to double check that this was, indeed, a bag of sweet breakfast treats I could bake up for husband and myself.  Hooray they were!
So at breakfast time, on to a baking tray straight from the freezer and into a pre-heated oven on a baking tray in the middle rack.  A short time later, there you have it – we had hot, freshly baked pain au chocolat for our breakfast
The verdict? They taste just like the ones you get in the bags that aren't even hot so if those are OK for you then these will be delicious. If you are looking for something a bit higher quality, you might want to make your own from scratch – but that is true of all things 😉