March 14, 2013
Rococo Seagull Eggs Filled With Salted Caramel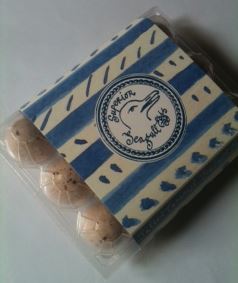 Rococo was a real pioneer in chocolate. They were the first people I was aware of who made interesting flavours in their chocolate and they were one of the first businesses I liked during that first chocolate tour I took around a decade ago. They have grown quite a bit since then and changed quite a bit.
These small little filled eggs are called Seagull Eggs probably to differentiate them from the praline eggs called Quails Eggs. They have a lovely and somewhat realistic looking sugar shell exterior with a layer of chocolate beneath the crisp layer and then the filling of salted caramel.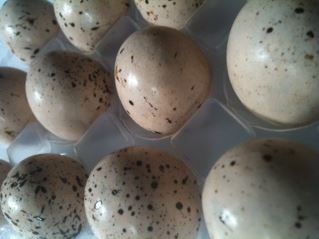 These eggs are created as a chocolate shell, filled with salted caramel and then sealed (if the puddle of chocolate in the middle of the caramel is anything to go by 😉 ) but that keeps them small and perfectly formed. The sealed egg then, I think, gets coated in a crisp layer and the sugar coating is decorated to look real 🙂 These are then placed in a bag or a small carton, which is how they were gifted to me by Rococo, and can be bought online or in their four shops. I think if you buy them, you might have to buy a lot… and you might need to buy more before Easter again… and then have withdrawal symptoms after…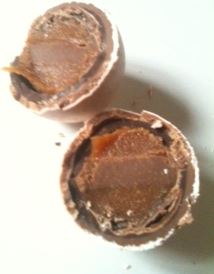 I found that while the eggs were cute and very easy to bite through, the caramel has a kind of coconut flavour edge. I did confirm this with two other people and tried them at two different times of the day so I know it wasn't just me. I checked the ingredients but couldn't spot anything that might make it taste like coconut so I assume it is a bit of possibly unintentional tastebud fakery through the inclusion of vanilla with the dairy in the caramel. The mouth feel is good though and overall it is a fantastic package.
I think that, if the caramel was more to my taste that I likely would have made myself sick on eating every single one of these eggs. They are tiny moreish little egglets of joy and if you like that flavour salted caramel you might want to lock them away after taking each one because that might be the only thing to stop you from INHALING THEM ALL! British company though not British made, these are a fun Easter treat.