April 16, 2014
Rococo Easter Bird of Paradise Eggs Reviewed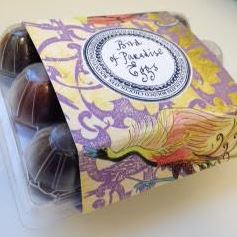 I got a small box in the post which husband put aside for me filled with something chocolaty from Rococo. They have just released a new line of filled eggs for Easter and they are delightful. With three flavours to choose from in a box, it's easy to keep everyone happy.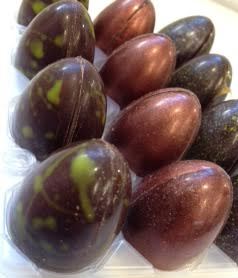 There are three flavours going from savoury to fruity to floral. I'm not a massive fan of Tonka from my time working with incense but I can fully understand why people love it. This tour of flavours is really interesting in a set of Easter egglets and it was amazing to be lucky enough to be sent a set to try. They were so beautiful with their delicately glittered exterior which I had the pleasure of trying out myself as well on the big egg I made for husband at the egg making and decorating evening at Rococo.
The box is bursting with the eggs inside. They can barely be contained, demonstrating how large they are compared to the Quails eggs. They are filled half eggs that have been stuck together which is easier to do than starting to look at things like freezing and the like to stich things together with no seam. It means the eggs you get are fresher and nicer.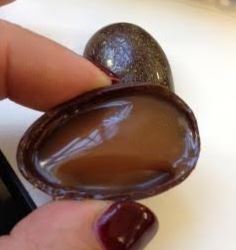 Passion Fruit & Rosemary –  not too shabby. The passion fruit is sharply acidic despite it being in a sweet caramel. The rosemary is adding a very subtle note of herbatious green. Not overpowering but more like the fresh young tips of rosemary were used for mere seconds in the caramel to infuse their flavour. Very nice in a somewhat neutral chocolate shell. Easy to pop apart and eat just one half, these are delicious.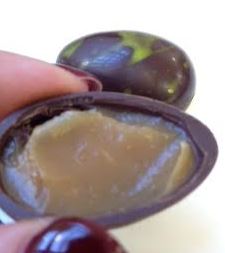 Kalamansi Lime caramel –  Wow! Zingy and sharply acidic against the plain chocolate, these are absolutely all over the place. Not as dynamic as the passion fruit and rosemary but still exciting, these are fantastic. The thin shell I think really makes these amazing with the right balance of fruit to shell. Not fab for transport but fab for eating.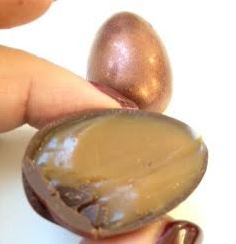 Mandarin & Tonka – sorry – not my style. The tonka was so strong I couldn't eat it. I passed it around the office and they thought the same – only one person liked the tonka but hey – different strokes and you may love it so I heartily recommend *trying* it before you take my word for it.
Overall these were loved by me and the office!