April 17, 2014
Godiva Easter Treats Reviewed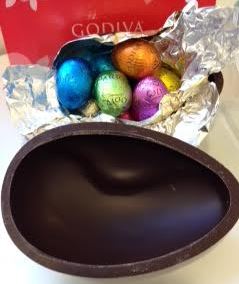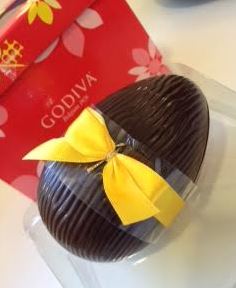 I'm not the world's biggest praline fan so don't shop as often as maybe I should at Godiva. That said, they did do a range of origin ganaches I was able to try at a press event that blew me away. Sadly they did not become part of the core range but that was some wicked kick-butt stuff from Godiva I'd love to see more of!
Easter is a time for slightly more predictability I feel. If I buy a Godiva egg I need to know I'll be getting the core range I love (if I'm a Godiva fan) and perhaps Ugandan bean ganache is slightly too much of a flavour gamble for me. After all, single origin ganaches do demand a thoughtful approach and frankly there are days I want to hoover chocolate (like right now actually… where are those praline eggs..?)
So for Easter, Godiva has released a number of traditional eggs, including this small one here in my possession (YAY!) and this bag of – well, most of a bag of praline eggs (which may make it through to the end of this review simply because I'm picking out my favs to eat first 😉 ).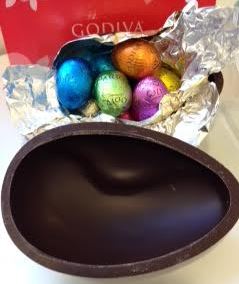 Small filled Easter Egg – in the tradition of traditional Easter eggs (as told to me by Fortnum & Mason's), this Godiva Easter egg is filled with chocolate eggs secreted inside the dark chocolate shell. As to flavours, well, I think there is just about one of everything in there. I checked the menu online and I think there was absolutely one of everything. From plain milk praline to speculoos or raspberry, all the eggs from the praline eggs range were in there. What a huge parcel of eggs in such a small eggshell. I like the way they sealed wit with a yellow ribbon so you know there is something inside. Absolutely fun and fantastic.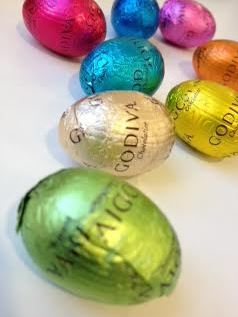 Praline Eggs – so, there are a lot of these and they come in a mix of flavours. I had a booklet to help me through but there is much to be said for discovery. KIDS – top tip – create a pile of dislike wrappers and like wrappers and put the discarded egg wrapper in that pile. Easier to then go back and grab a flavour you liked later 😉 They are a typical Godiva praline which is smooth and not too nutty. The office DEVOURED them. They lasted barely longer than the shell as everyone wanted a bit of the Godiva egg specialness I had brought in. Even one person who was sad she got dark chocolate enjoyed the raspberry inside.
It's kind of fun to randomly choose an egg and just try it. When it is a trusted brand like Godiva you know that no matter what you do you'll have something yummy. That makes the bag of pralise eggs perfect for anytime. Godiva have a huge range of stuff for Easter. I recommend first buying a chocolate covered strawberry then shopping at your leisure as you eat the sweet delicious chocolaty goodness. In Toronto the Godiva shop in Yorkdale has the chocolate right there in the window when they dip – just like on Regent Street. It's a delicious experience and one you can enjoy while shopping for Easter or just while shopping.
The Godiva Easter range is a solid traditional Easter range. The packaging is seasonal, the chocolate is Godiva and if it is a brand you know and trust you are absolutely going to love this. Why not give it a try?