December 20, 2016
Recipe from @paul_a_young Chocolate Brownie Pudding with Salted Caramel and Toffee Pecans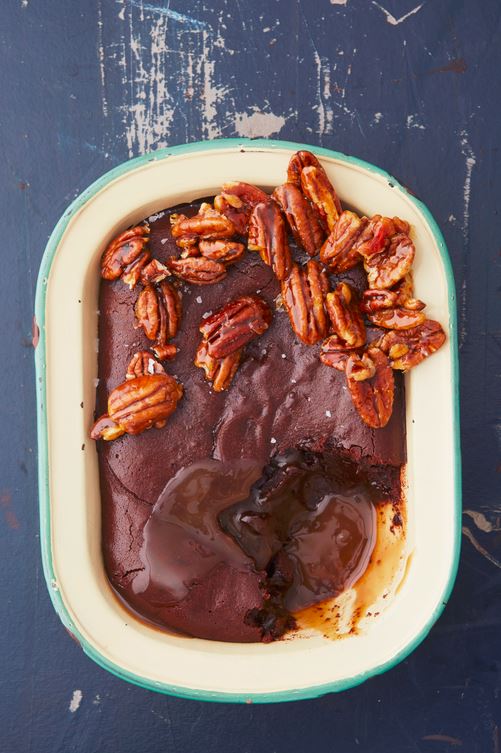 Originally created by Emma Thompson and is from 'Sensational Chocolate' with recipes from Paul a Young and celebrity contributors in aid of the Children's Air Ambulance. Clearview Books £20.
This time of the year is often cold and dark so creating a delicious dense pudding like this can help chase the blues away. Don't be afraid of the caramel sauce as I've learned that you can rescue almost any pot 😉 And of course do visit a Paul A Young shop for not only his brownies which now use compostable plastic to wrap them in but he also has a selection of the finest, multi-award-winning chocolates on the planet.
Serves: 4
Preparation time: 45 minutes
Cooking time: 25-30 minutes
You will need: 4 individual pudding basins, or 6″ baking dish
Ingredients:
Brownie:
100g/3.5oz/1/2 cup unsalted (sweet) butter
250g/8.8oz/1¼ cups unrefined caster sugar
75g /1.7 fl oz Golden Syrup (you can substitute Light Corn Syrup)
275g/9.7oz/1 ½ cups Valrhona dark chocolate (or good quality 70% dark chocolate chips)
4 medium size free range eggs
70g/2.5oz/1/2 cup plain (all-purpose) flour
Method:
Melt together the butter, sugar and syrup until it bubbles.
Remove from the heat and add the chocolate and mix well.
Add the eggs and beat all until smooth, then add the flour, mixing well.
Pour into a pudding basin, deep 6" deep baking dish and bake at 175 degrees C/350 degrees F/ Gas Mark 3.5 for 25 to 30 minutes. It should still have a wobble when it leaves the oven. Don't leave it in the oven for any longer than the listed time so that the brownie middle is still soft and molten.
Salted caramel sauce
100g/3.5oz/1/2 cup salted butter
100g/3.5oz/1/2 cup unrefined light muscovado sugar
100g/3.5oz/1/2 cup double (heavy) cream
1 teaspoon Maldon (flaked) sea salt
To make the caramel – bring the butter and sugar to a simmer with the salt and cook for 3 minutes.
Take off the heat, add the cream and mix well.
While this is warm pour it over the brownie pudding and leave to stand.
Honey toffee pecans
1 tbsp honey
1 tbsp unrefined caster sugar
½ teaspoon Maldon (flaked) sea salt
100g/3.5oz/3/4 cup shelled pecan nuts
To make the pecans – On a flat baking tray, cook the pecans in the oven at 170 degrees/330 degrees F/Gas Mark 3 for 5 minutes or until golden brown.
In a saucepan bring the honey, sugar and sea salt to a simmer until golden.
Throw in the pecans and stir to coat in the caramel.
Pour on to a parchment paper and allow to cool.
Once cold, chop and break into very pieces.
Sprinkle over the pudding and serve.
Paul's tip:
For a boozy pudding add a shot of whisky, rum or cognac to the caramel sauce.
Make in advance and freeze wrapped well in aluminium then bake from frozen for 30 minutes at 170 degrees /330 degrees F as a fantastic last minute dessert.