September 5, 2010
Purist 50% dash of milk 35g Chocolate Bar With Caramel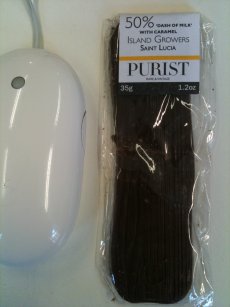 It's hard to assess a chocolate bar from Hotel Chocolat. I know where they are in my own head but putting it into writing is harder.
I love Hotel Chocolat's range of mini Purist chocolate bars and wish I had taken handfuls at the launch because quite frankly one is just not enough. Yes, I let the chocolate melt in my mouth and yes I try and make it last but darn it this chocolate needs to be gobbled sometimes. They are small 35g bars and so are slightly more expensive than most but I think you'll be happy with the result. They are simply packaged which I think will lead to more wastage as people will be reluctant to get broken ones (but I volunteer to accept all broken chocolate – I'll give it a good home… my tummy is an excellent home!).
The milk chocolate has a stronger chocolate flavour than most people will be expecting but perhaps not be as fruity or robust as top aficionados might expect from their chocolate. I'm not sure if perhaps Saint Lucia produces less fruity cocoa beans but while strong, the chocolate itself doesn't seem to have a distinctive flavour that emerges. This is not a bad thing – just different. It has a slightly grainy txture but chocolate which is made into milk chocolate seems to be conched less because of the properties of the chocolate when adding dairy.
The caramel is small pieces of crunchy caramel mixed into the chocolate. YUMMY.