November 5, 2012
Prestat Mint Chocolates Box Reviewed – NEW SELECTION!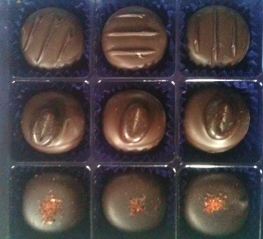 You might have read my review of the milt selection from Prestat on this blog before but in the chocolate world, nothing is static and so when the archived post came up on Twitter, Prestat got in touch to send me their new selection.
This selection of three mint chocolates includes two created by Neville Croft who, with his wife Elizabeth, ran Prestat in the 1960's and 70's. The double mint and coffee mint are mint and coffee fondants respectively enrobed in mint-infused dark chocolate (hence the name "double mint").
Apparently, they became big hits of the day and attracted the likes of actors Sir John Gielgud and Dame Peggy Ashcroft and the novelist Roald Dahl who were regulars at the Prestat shop in this period. The third chocolate – strawberry mint – is a strawberry fondant in the mint dark chocolate – a very British mint 😉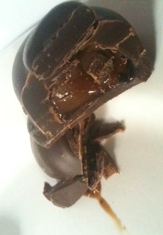 Coffee Mint – This is an interesting very liquid fondant with a light coffee flavour (so not a dark, burnt, intense flavour). It is extremely gooey making me originally think it was a caramel as the fondant was as dark as a caramel could be. Very light and minty but with that coffee edge coming through. I liked it.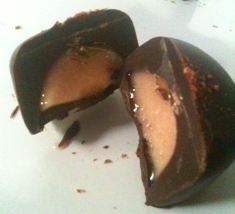 Strawberry Mint – This was interesting – quite refreshing and not as minty as the other two chocolates, this was also not too synthetic. The strawberry flavour was so nice even my husband gobbled the chocolate up – then went to the box, removed another one and hid it.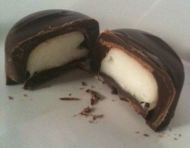 Double Mint – this was interesting. The fondant was more solid which was nice and so it was lovely and the mint wasn't too overpowering. I really enjoyed this one. As you can see, the minty shell is quite thick and the fondant a clear white fondant against the dark chocolate.
This new selection box is so yummy even my husband tucked in to a number of them! Lightly minty but enough so you've still got that taste of mint long after.