March 8, 2010
Pierre Herme Macarons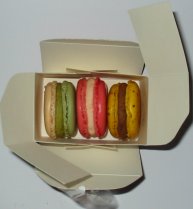 I discovered the new Pierre Herme concession at Selfridges in London.  The beautiful area dedicated to these lovely pastries is both attractive and practical.  Talking to one of the French assistants I learned that these macarons are not macaroons but lovely almond pastries.
These are made in Northern France and shipped to the UK daily if I understood correctly.  Trusting the assistant to select for me, he chose Mogador – a combination of milk chocolate and passion fruit, Rose – a pure rose concoction, and Imagine – green tea and black sesame together.
The rose was the one I tried first.  It didn't smell of rose but from the first bite it was unmistakable as rose.  Not overpowering or overly floral, the delicately crisp shell of the macaron was beautifully balanced with the rose cream filling.  A different taste sensation but very pleasant.  Not too sweet it was beautifully balanced.  I finished it all up!
Next I tried the milk chocolate and passion fruit.  The passion fruit was the first strong flavour, with the milk chocolate struggling slightly to make an impression on the palette.  This one was also slightly denser, with the filling more solid and dense than the rose. I left it half way through to come back to later.  It was a bit strong for me flavour-wise.
Imagine is the final one I tried.  The strong sesame flavour was quite overwhelming and overpowered the green tea.  The flavour of the green tea does come through at times and is clearly a high quality green tea with none of the bitterness of the lesser types.  Having been to a few green tea ceremonies while in Japan and having learned as much as I could about the ceremony, I found the flavour took me straight back to the mouth feel of the tea after the sweet.  When the black sesame flavour was prominent I found it difficult to eat so left this one unfinished.
I'd recommend them and since these are all about discovering flavours give them all a try.  There is nothing like discovering something new and yummy!
Next I have truffles and macaron chocolates to try from Pierre Herme.