September 29, 2010
Perfectly Tempered Artisan Chocolates Tea Chocolates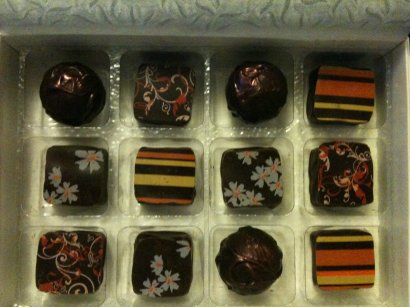 Beautiful.  Beautiful was my first thought on opening this visually stunning box of Perfectly Tempered Tea Chocolates.  I was sent these chocolates for tea week and they were beautifully presented in their box.  Look at the decoration on each of the chocolates and the pink shimmer on the jasmine.  The box the arrived in was a gloss finish plain white with a branded pink ribbon.  On opening, the tissue paper was closed with a branded sticker with a bespoke menu of what was included and the chocolates.
Jasmine Truffle – this chocolate was most tempting to me.  I love jasmine tea and know how difficult it can be to get this right.  The smooth dark chocolate ganache was inside a dark chocolate ball of goodness.  As you bite into it, the delicate flavour of tea and jasmine infuses your mough.  The light ganache is delicious and I really enjoyed it.
Lady Grey – A milk and dark chocolate ganache that has been infused with Lady Grey tea. The flavour  of the tea does come through in the ganache – it's like a cup of tea in a chocolate. In fact, I think I'll argue for replacing cups of tea with this chocolate 🙂
Earl Grey – another milk and chocolate ganache which has been infused with earl grey tea.  This one tastes slightly sugary with what tastes like granules of sugar in the ganache. The taste of the earl grey tea is not as strong here as in other chocolates.  It is nice to not feel like I'm chewing tea leaves but it might be nice a very small degree stronger and perhaps without the sugary crystals.
Masala Chai – a milk chocolate ganache that is flavoured with Masala spices and tea. This is so strongly flavoured it comes through the thin shell.  The ganache is more solid than the others and it melts slightly less quickly in the mouth than others.  Still delightful and absolutely YUMMY.
Wanna get yourself some? Order this tea selection from Perfectly Tempered Chocolates.