March 15, 2010
Paul Wayne Gregory Selection of 3 Chocolates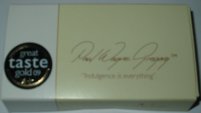 I had the good fortune of getting three of Paul Wayne Gregory's chocolates.  One mint, one sea salted caramel and one raspberry.
The mint chocolate was a nice with a very green mint flavour mixed in to the chocolate ganache.  The flavour I prefer is that of a fresh green mint and this was slightly on the synthetic side for me for some reason.  I cannot say if there was real mint or mint oil used but regardless I did enjoy it but did not finish it.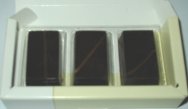 The sea salted caramel was too salty for me.  I'm sure it is brilliant for some and probably developed to be the perfect balance but for me the salt was too much. It didn't get finished. ***UPDATE*** Tried one at the Chocolate Festival and chatted to Paul about it and he said it was not representative and on trying both the lollipop and a truffle I can say it was not. They are LOVELY!
The raspberry was the one I love love loved. I am a huge sea salt caramel fan but this raspberry had it beat.  The chocolate was fab and the filling brilliant!  I'd eat a box of these – I wish I could!!